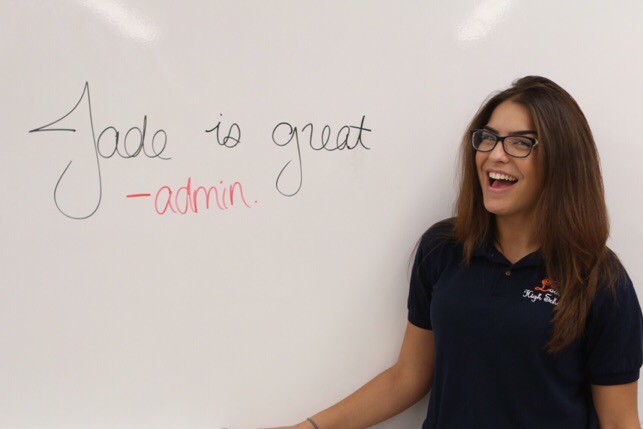 Q: If you could be any animal, which would you be and why?
A: I'd be a panther, because they're so graceful, fast, and fierce.
Q: How would you describe yourself in only five words?
A: I'd say I am sarcastic, honest, compassionate, dependable, and hardworking.
Q: What are you looking forward to this year?
A: I'm looking forward to my whole senior year: football games, basketball games, homecoming, prom, trips, etc. I'm excited to actually be a part of something.
Jade Alameda, admin
Jun 20, 2016

Friendships of Lodi High School

(Story)

Jun 05, 2016

Respect Crew Respects Animals

(Story)

Jun 05, 2016

Humans of Lodi High School: Episode 17

(Story)

May 19, 2016

Humans of Lodi High School: Episode 16

(Story)

Apr 21, 2016

Humans of Lodi High School: Episode 14

(Story)

Mar 31, 2016

Humans of Lodi High School: Episode 13

(Story)

Mar 17, 2016

Humans of Lodi High School: Episode 12

(Story)

Mar 03, 2016

Humans of Lodi High School: Episode 11

(Story)

Feb 11, 2016

Couples of Lodi High School: Valentine's Day Edition

(Story)

Feb 11, 2016

Surviving Valentine's Day Alone

(Story)

Jan 31, 2016

Humans of Lodi High School: Episode 9

(Story)

Jan 14, 2016

Humans of Lodi High School: Episode 8

(Story)

Dec 22, 2015

Safyre's Christmas Wish

(Story)

Dec 22, 2015

Humans of Lodi High School: Holiday Edition

(Story)

Dec 10, 2015

Humans of Lodi High School: Episode 6

(Story)

Dec 10, 2015
Nov 15, 2015

Humans of Lodi High School: Episode 4

(Story)

Nov 15, 2015

Senior Students in the Workplace

(Story)

Oct 30, 2015

Relationship Goals

(Story)

Oct 30, 2015

Monsters of Lodi High School: Halloween Edition

(Story)

Oct 15, 2015

Humans of Lodi High School: Episode 2

(Story)

Oct 01, 2015

Humans of Lodi High School

(Story)