Celebrate Hispanic Heritage Month with Lodi High School!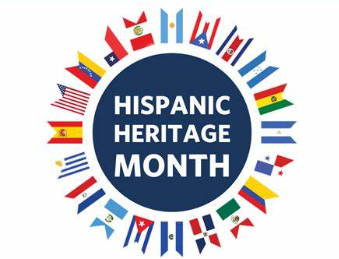 Hola LHS students! Hispanic Heritage month is celebrated from September 15th through October 15th! During this month our nation recognizes the contributions of the Hispanic culture to American society. Hispanic heritage month originated as a week of recognition that was extended and enacted into law by President Ronald Reagan on August 17th, 1988.
Through the years, Hispanic heritage has honored influential people who positively impacted American culture and history with their accomplishments. For example, Lin-Manuel-Miranda is an award-winning composer, writer, actor, rapper, and filmmaker most famous for his role in the creation of Broadway's Hamilton. Miranda grew up in Inwood Manhattan, a section of New York known for its Puerto- Rican roots. Some of his awards include three Grammys for In the Heights, How Far I'll Go, and Hamilton. He also has two Emmy awards and three Tonys among other awards and accomplishments.
Here in the LHS community, Hispanic Heritage Month is a time to celebrate our students and staff whose roots stem from Hispanic countries. When asked how she celebrates her heritage, Ms. Vado responded that she celebrates her culture all year long.  Specifically, she shared, "It is something that is celebrated in my cooking. A typical dish of rice and beans, Platano maduros and pollo guisado are typical dishes of my Latin culture." She also added how she brings this culture to life in the school community:  "It is celebrated in the hallways of LHS where the Spanish language flows and is accepted. It's celebrated in our international Festival where cultures unite and celebrate each other's differences."
Hispanic culture is so wide and diverse that it cannot be explained in a single definition. Each Hispanic country, from Peru to the Dominican Republic, has their own holidays and celebrations. From Mexico's honoring their lost loved ones on Dia de los Muertos to Peru's parades for their Independence Day, each community has celebrations worth recognition. However, there is one thing that these celebrations share: they all include abuela's nurturing food, festive music, and dancing. These holidays and celebrations are the reason to come together and spend time with all the thousand primos and tias y tios.
What's a celebration without amazing and nostalgic food? There is magic food that transports those enjoying it simpler times of childhood. The students of Lodi High School enjoy family favorites from all over south and central American.  Senior Derek Villavicencio celebrates Peru's Independence Day by gathering with his family and eating ceviche while Honduran sophomore Juan Rivas celebrates Easter by coming together with his family and eating empanadas de pollo made with consome de pollo. Dominican junior Jose Carpio celebrates Christmas with his family with sancocho and moro.
Ultimately, Hispanic heritage month is a time to feel especially proud of the foods, music, language, and holidays unique to the culture. Check out our video to see even more about how our school community celebrates!