Slay In Your Own Way for Prom
There are very few times in your life when you get to wear a truly glamorous, jaw-dropping dress. Why not make your prom night one of those times with a beautiful, flattering, perfect prom dress?  Prom is not only a special night for the senior class because it is their  last time together before life after high school, but it's also a day to show off their impeccable tastes. We wear uniforms every day to school, so why not take this night as an opportunity to express your individuality and be different!
There's a prom dress out there for everyone… no matter your shape, height, or color.
Steps to finding your perfect dress:
Plan to choose and purchase your prom dress at least four to six weeks before your prom. Many formal gowns (including prom dresses) require alterations for a perfect fit, and you will want to allow enough time to complete these alterations.

Plan your budget for your prom dress and begin saving as soon as possible. Parents can be a huge help and may even buy the dress for you but it's always good to have a job or save money that your parents give you over the course of time to buy the dress yourself.

Know your body shape and how to match it to the perfect cut. You could be an apple, pear, hourglass, vase. To match the body shape and dress, here are some suggestions:

If you have an hourglass body shape (well-defined waist, torso and hips having about the same width), look for prom dresses that accentuate the waist and keep a perfect balance between tops and bottoms. If they have sleeves, a full skirt is required; if the top of the dress is tight, the skirt must also tightly follow the hips and thighs.

If you have a rectangle body shape (no defined waistline, and shoulders, bust and hips having the same width), you need to define your waist and add volume on both your upper and lower body. The best prom dresses for you are draped dresses with a defined waist and full skirt, Empire dresses, A-lines and any dress with a full skirt, ruffles and folds.

If you have an inverted triangle body shape (little waist definition, and shoulders and bust larger than the hips), you must add volume to your lower body in order to draw attention away from your broad shoulders. You can create the hourglass silhouette illusion by wearing Empire line dresses, A-lines with deep V-necks, wrap dresses with a higher waist and other dresses with full skirts and details or embellishment on the hips.

If you have a pear body shape (torso and upper body smaller than the hips), you must make your silhouette look like the ideal hourglass figure, so look for prom dresses that draw attention to your shoulders and bust and reduce your lower body: A-line dresses, wrap and draped bust dresses, as well as prom dresses with well-defined waist and embellishments that draw attention to your upper body.

If you have an apple body shape (little or no waist definition, upper body wider than the hips), you need dresses that can create the illusion of a slimmer waist while keeping the right balance between the upper and lower body: Empire and A-line dresses with simple tops and a low and wide neckline (scoop, square, sweetheart).

Lastly, before you buy it, try on dresses in a variety of different styles and cuts to find the one that works best for your body.  If you find a dress online that you really like try to call and ask stores around you if they have it in their inventory so that you can go in and try it on to see if it looks good on you. Remember… almost all prom dress are non-refundable and/or in-exchangeable so if you buy it, you have to keep it! You don't want to be stuck with something that you hate and paid  so much money for!
Another piece of advice is to not go into a store or shop online with a specific color in mind. If you set your mind to only getting a blue dress, you limit yourself by eliminating all the other beautiful dresses that you may have missed in different colors.  While shopping, have an open mind and don't be afraid to try on something funky and unique because you might like it. Don't settle for the same boring silhouette that most typical girls choose because then you won't stand out.
If on a budget, you can find cheaper priced dresses on fabulous websites such as Asos.com, Promgirl.com or Windsorstore.com. Less pricey, while also stunning, designers include La Femme, Terani, Scala, Blush, Ellie Wilde, and Mori Lee. BEWARE of websites that show beautiful pictures of dresses with ridiculously low prices. They are NOT to be trusted unless you want your prom dress to come in only to find out it was poorly made overseas and looks NOTHING like the picture you saw online. If you are willing and able to spend more, you can check out dresses designed by Sherri Hill, Jovani, Rachel Allan, Mac Duggal, and Tarik Ediz. These designers range from decent to outrageously expensive prices but you are paying for quality and beautifully crafted dresses.
This year's trends include an abundance of two-piece gowns, prints and florals, mermaid satin gowns, ruffles, slits, flared sleeves, the color burgundy, tons of beaded and embellished gowns, and also gowns that are simple yet sophisticated. With so many styles and colors it can be so overwhelming and price tags can be intimidating but all-in-all it's an experience with which a girl should have fun! Happy Hunting!
About the Contributor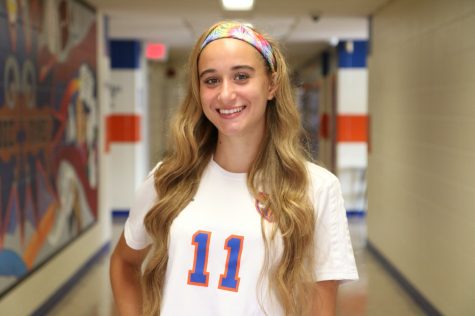 Amanda Najbar, Editor
Q:What are three words you would use to describe yourself? A:Amanda describes herself as an open minded, creative, and positive person.

Q:What do you...