Let Gimelyn Yray Animate Your Life!
Lodi High School's art program is filled with skilled and talented students. One of these students goes by the name of Gimelyn Yray. While known as being quiet and shy in the hallways, she sure makes a loud impression through her art. She has been tracing cartoons in her coloring books since she was a kid. But what really determined Gimelyn's passion and talent for art was when she first discovered anime. Her inspiration, Hay Miyazaki's works were introduced to her in animated films, thus she was able to refer to different movements and angles to consider when drawing. His work had also inspired her to attempt drawing and creating her own environment. Another artist, Kim Jung Gi,  inspires her to draw an idea that comes to her head without a sketch; his work is often produced without a reference or sketch.
Anime is what allowed her first focus in art to be of the human form. Afterwards, she branched off into a variety of other art forms such as digital media. Gimelyn enjoys drawing and practicing a combination of pop art and realism, but is currently drawn to the human body. Because of her strong art style adapted from anime, she tends to portray soft, smooth features with semi-large eyes when depicting the human face.
As her creative talents flourish in the art world, Gimelyn likes that her current works leave room for flexibility and error, but this is also a dislike to her. While harshly self-criticizing her works, she is able to see where she wants to improve and this is what she calls "progress". Being a soft-spoken person, she uses her artistic style in school for projects and presentations to portray herself as a unique individual. Outside of the academic world, she shares her artwork and progress online through her Youtube Channel, BM Chara, and Tumblr, artmagi74.
When asked if she would pursue art as a career she responded with the hopes of pursuing a career in pediatric surgery. However, she will utilize and incorporate her skills in art with medical books as anatomy illustrations. Art will always be a part of her and she will always enjoy it as a hobby.
Make sure to check out, and recognize Gimelyn's hard work below!
About the Contributor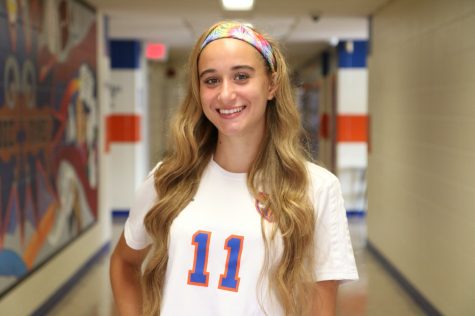 Amanda Najbar, Editor
Q:What are three words you would use to describe yourself? A:Amanda describes herself as an open minded, creative, and positive person.

Q:What do you...