Student Government: And the Results are in!
Every year Lodi High School holds elections to determine the new president, vice president, secretary, and treasurer of the school. This year the elections began on Sept. 19, when LHS hosted Student Government's annual showcase of candidates and their speeches.
The candidates for Treasurer: Alyson Daleo, Samantha Guerra, Shanza Arif, Kelsie Hannavi, and Joan Spirollari.
The candidates for Secretary: Daniela Cavallaro, Jennifer Mahon, Emma Bernardo, and Paulette Gando.
The candidates for Vice President: Gia Manno, Erin Gamadia, and Bryan Williams.
The Presidential candidates: Carolina Arango and Lila Reginald.
The votes were casted the following day, Sept. 20, during homeroom. After a day filled with anticipation, the winners were announced at the end of period nine. It was a very close race since all the candidates were truly magnificent. However, the people spoke and the winners were as followed:
Samantha Guerra as Treasurer
Jennifer Mahon as Secretary
Bryan Williams as Vice President
Carolina Arango as President
The Rampage asked the winning candidates about their thoughts on the upcoming school year and what they plan to do. As the new Treasurer, Samantha states, "I want to be able to plan the best Homecoming and Ram Wars possible but within a low budget; this way … we can even have another fun event that the school hasn't had before. I'm also excited about the school fundraisers because I have many new ideas." Samantha's ideas are a work in progress that she can't wait to share!
Jennifer is very enthusiastic about being Secretary this year. She states, "I'm excited to work with people who are passionate about making a change in the school. I strongly believe that a leader is nothing without the people who work with you and support you. I am prepared to keep everything organized and in check so we can have a wonderful school year." Jennifer is committed to her role in the school and ready to dedicate her time.
Bryan, the new Vice President, wants nothing more than to make this year a memorable one. He states, "I want make the events we already have more fun and introduce new ones as well. One event I'm hoping to have this year is the Spring Pep Rally. New ideas are always mentioned but it takes more than one person to make a massive move." Bryan is pumped to host the most exciting events possible!
Lastly, as the new President, Carolina is eager to work side by side with the student government members. Carolina mentions, "I'm glad to be working with a creative group people who have bright ideas. Aside from hosting an enjoyable Homecoming and Ram Wars, I plan on having a Spring Pep Rally as well as another spring event." Carolina is looking forward to putting a new take on old traditions!
We can't forget about the representatives who contributed so much to the elections:
Representing the Sophomore class: Hardeep Kaur, Zainab Mubashar, and Ria Patel
Representing the Junior class: Jahynis Cabral and Sunny Mistry
Representing the Senior class: Lillian Maltese and Alize Borjas
Of course, this wouldn't have happened without Mr. Galvin, the supervisor of student government! He has been working hard for several years so that students can get the opportunity to be more involved in the school. Mr. Galvin anticipates on seeing cooperation between the officers and representatives and deviating responsibility as well as sharing the blame. Just as the other members, Mr. Galvin is excited to have a remarkable school year that everyone will remember.
Congratulation to all the nominees and a special congratulations to the 2016-2017 Student Government officers!
About the Contributor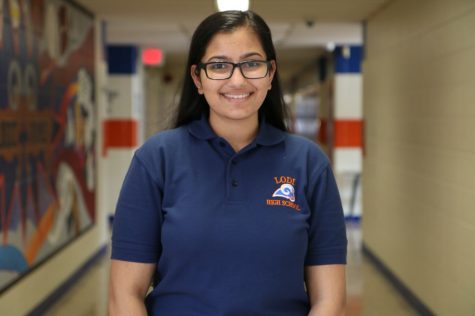 Shanza Arif, Editor
Q:What is your biggest aspiration in life? A: Shanza's biggest aspiration in life is to achieve the best forms of recognition and lead a truly successful...