Lodi Wrestling Comes to an End
Wrestling season has officially come to an end. Lodi had multiple wrestlers that represented them in Regions. Senior captains, Dom Salvatore and Matt Caban, Junior Brandon Calvo, and sophomores, Chris Caban and Chris Kennedy, all made it to Regions. Dom Salvatore was the only wrestler who placed, coming in fourth. Although high school wrestling is now over for Salvatore, he's able to say that he has had an amazing career at Lodi High School. His explosive and intense career put Lodi Wrestling on the map these last four years, but his senior year was definitely his most memorable year. He came in first in the Garfield Holiday Tournament, placed in the Bergen County tournament, won his 100th career win, became the 2015 district champ, and placed at Regions. Although Salvatore didn't make it to Atlantic City, he made everyone at Lodi High School proud. He showed Lodi what it takes to be a true high school wrestler and now he's heading on to a new chapter in his life as he continues his wrestling career at Johnson and Wales University. Salvatore will never be forgotten as a Lodi wrestler and he will always be a part of Lodi wrestling history.
About the Contributor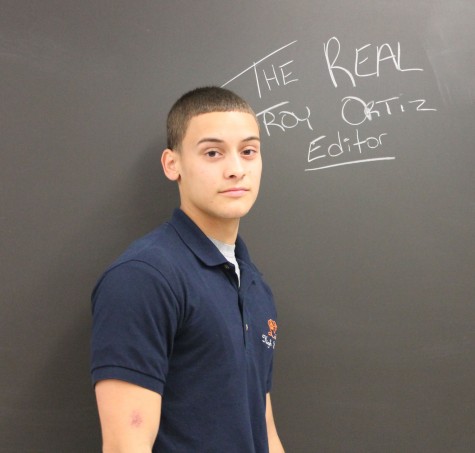 Troy Ortiz, Editor
Q: What are your hobbies?

A: Baseball, eating, working out, and hanging out with Joey.

Q: What do you plan to do after high school?

A: Go to college...