Winter Time Sports
With fall coming to an end, a new sports seasons are upon us. This season we have girls basketball, boys basketball, competition cheer and wrestling. Although there has not been an official game, competition or match yet, every player is working hard at practice to improve and prepare for the debut game of the season. On the wrestling team, seniors Anna Sancilio, Armando Alvarez, and Kevin Porter continue to push through the grueling practices, all while motivating the underclassmen. Juniors Ayden Luybimov, AJ Asencio, and Andrew Gurgis are showing signs of a good upcoming season. Other wrestlers to watch out for are Josh Valladaras,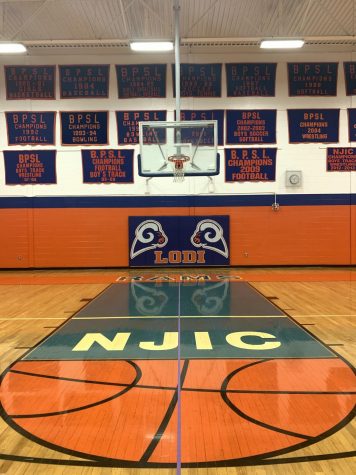 Fabio Paulino, Ryan Mcguire, Malik Asfour, Matt Pacheco, and Andrew Malina (who swapped baggy shorts and a basketball for head gear and a singlet). The wrestlers sure are putting in hard work to condition for the season. From going live in practice to doing 100 push ups at the end, these wrestlers bring buckets of sweat…literally. The cold weather also makes it the perfect time for basketball players to head indoors for the start of the season. Keep your eyes peeled for the boys balling up this season like Roland Levia, Aaron Moravick, Nick Williamson, Robert Klawoans, Brandon Garcia, Jose Rodriguez, and Eyan Arroya. Of course don't forget to watch Lodi's seniors Erlis Kuci, Matthew Fisher, Chase Giesler, and Alex Fuentes. The girls basketball team is looking strong with seniors Patricia Rodriguez, Laura Morato, Olivia Russo, and Camilla Dias. This early on in the season basketball players are running many suicides, going through many ball handling and offensive/defensive drills. Game plays are also being embedded into the athletes' minds.
When it comes to keeping spirits high and being prideful, competitive cheer is where it's at. Seniors Michelle Guerra, Emily Baquero, Alex Rodriguez, and Leanne Chamberlain lead the competitive cheer team. Competitions are no joke. These cheerleaders have stunts and back hand springs, layouts, tucks and whips while also having choreography included in their routine. When we asked Michelle Guerra what she thought about the upcoming season she said, "I think that this season's success isn't going to be measured by our wins but how hard we fight to succeed." Overall, each team has strong players to make this upcoming season a very promising one. Be sure to come out and support LHS sports!