Winter Sport Flurries
Competition Cheer
Most people think that all cheerleaders do is wave their pom-poms on the sideline while cheering on their team; however, these girls do things that could lead to very serious injuries if not done correctly. The Competition Cheer team is a small, all girl, all music team with 15 girls and two alternatives that will literally tumble all over you. Senior captains, Caterina Messina and Chelsie Bartoloni look to improve from last year's season with the help of some young stars, such as Kylie Bernardo and Amelia Vega. After ending last season on a high note by winning first place at the Fair Lawn High School Competition, this team could make a name for themself across Bergen County.
Girls Basketball
With many talented girls returning from last year, Coach Romeo looks to add to his resume with another winning season. After being named First Team All-League last year, senior Mary Breny looks to lead her team alongside Daysia Bubenik. Breny proved last year that she could not only dominate defensively, but also offensively down low in the paint. Even though Camilla Dias is just a freshman, don't be shocked if she is the one handling the rock throughout the game. In addition and in trying to build a strong basketball program, Coach Romeo sent Coach Mantel and Coach Pasqualone, who previously coached the J.V. team, down to the middle school so the upcoming girls would be prepared for high school basketball.
Boys Basketball
With the Boys Basketball team coming off of their first league championship in school history, the team looks to add to what could be a dynasty in the making. After losing three out of five of the starting lineup from last year, the team will look to switch up their game plan. Last season, Coach Terhune used the team's height to their advantage and they dominated in the paint; however, this year he seeks to be more of shooting team. Justin Soto and Marcel Wizzard will be a duo to watch on Tuesdays and Thursdays, as they both have been key players since their sophomore seasons. Also, players like Curtis Wright and Elyas Arroyo will be looking to crack the starting lineup after having important roles on last year's team.
Wrestling
After just coming short from the league title last year, the wrestling team brings back 10 varsity starters to the mat. With seniors Marcos Abarca, Ivan Ayon, and Sean Tocci all having an above .500 record last year, they look to hold down the lineup from the beginning, middle, and end. Don't be fooled though –this team also has some young talent other teams should be afraid of with sophomore Anthony Asencio, who looks to add to his 15 win freshman season. The squad takes on their rivals, Garfield, in their first match which could be a great start for their league champion hopes. The Coach Fava and Rodriguez tandem will also be in full effect after the duo's successful first season.
About the Contributor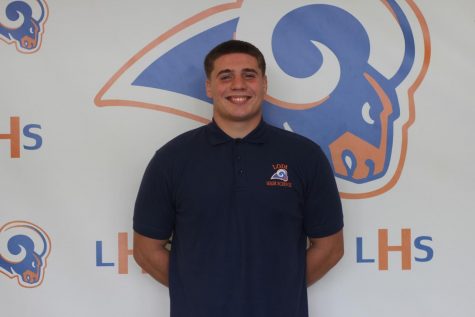 Sean Tocci, Writer
Q: What's your favorite cereal and why?

A: I like Cocoa Krispies because I like to drink the chocolate milk.

Q: If you directed a movie about your...