Painting the Steps to Success
On April 5, after all of the students left the building, a few teachers got together for a paint night. The art event was hosted by Mrs. Hansen and Ms. Zuniga in the school cafeteria.  This event was a great way for teachers to bond and try something new. The main reason for this paint night was to raise scholarship money for science and Ap Art students.
The event started with blank canvases and each teacher had to follow the model painting placed in the front. The painting consisted of a beautiful winter scenery and bright colors that included blues, pinks, oranges, and many more. The original painting was done by Ms. Zuniga, one of Lodi High School's art teachers. Ms. Zuniga was the teacher of the night. She explained and also showed how she created the painting step by step, while all of the other teachers followed, carefully. The Lodi Rampage interviewed Ms. Zuniga on her experience during the event.
Q. How did you choose the painting of the night?
A. "I made my own painting by being inspired by other studios that host paint nights. Also, the painting was of a winter sunset and reminded me much of the weather that we were currently having. In this painting, vibrant pastel colors were used, and I thought it would be perfect to do."
Q. How did you feel teaching teachers?
A. " I felt a bit nervous because I wanted them all to have a good time. I was glad to have the opportunity since most of them haven't painted since they were kids. I wanted to show them that if you take painting step by step it's not that hard."
Q.What did you think of the final products?
A." The end product was really good! All of the paintings, even though they were of the same thing, had their own personality. It was nice to see how everyone interpreted the painting in their own way."
The overall event was a success and teaches had quite a lot of fun while also raising money for students. The Rampage can proudly say that Lodi teachers are awesome!
About the Contributor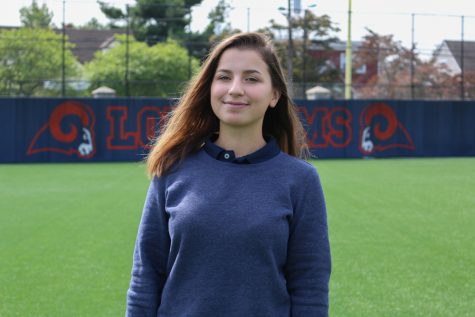 Mikela Lickollari, Administrator
Q: How has high school been so far?

A: The days are pretty long for Mikela and she thinks it's just scary that we have to start growing up.

Q: Do...