Minute to Win It: 60 Merry Seconds
The Holidays are a great time for some friendly competition and lots of laughs. For these Minute to Win It games, we challenged just a few of the helping hands we have here at Lodi High School. For our first game, Elf Toss, we separated the tossers and the catchers. Each group had a total of thirty mints to toss from one side of the room into the stocking that was being held on the opposite side of the room. The winners of this challenge were Ms. Policastro and Mrs. Passano, while Mrs. Garcia and Ms. Wang were, sadly, eliminated.  Our second game, Pin the Nose On Rudolph, consisted of having one person from each team blindfolded and the other person verbally guiding them to Rudolph's nose. Ms. Policastro and Mrs. Passano were knocked out from this challenge, leaving the rest of the teams to continue onto the next round. The third game, Reindeer Wrap, involved taking brown streamers and continuously wrapping it around a partner. Two teams successfully completed this challenge, but Mrs. Pontillo and Mrs. Orosz were unable to move on. For our final challenge, Santa Pop, finalists wore winter gloves and had to pop their balloons in under sixty seconds. Check out the video above to see who wins the Minute to Win It: 60 Merry Seconds challenge! A big thank you to all of our competitors! Merry Christmas & Happy Holidays!
About the Contributor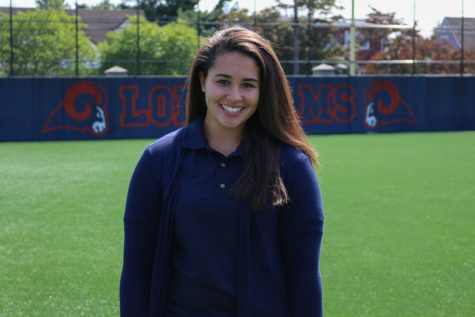 Emma Bernardo, Writer
Q: What is your biggest worry about senior year?

A: One of Emma's biggest worries about senior year is not being able to keep track of all her due...