Rivalry Week: Boys' Basketball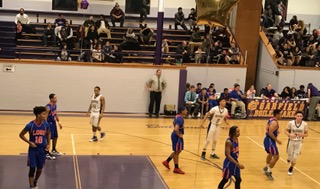 On Tuesday, Jan. 17, the Lodi and Garfield fans grew anxious as they prepared for the annual 7'oclock Lodi versus Garfield showdown.  Lodi started the game off with the ball after winning the tip off. The starting lineup consisted of Carlos Pepin , Jont'a Bianco, Randy Mendez, Chris Rivas, and Johnathan Bugg. They got off to a hot start with a series of fast points in the first quarter. Bugg scored a post move bucket with style with only two minutes and 30 seconds left in the first quarter. Bugg continued to shine in the quarter with a floater bucket assisted by Carlos Pepin. Pepin ended the first quarter with a fast break layup after racking up a steal.
Richard Fontanillas ignited the second quarter with two fast break points to stretch the lead to 21-7 . Carlos was the core of the team's lead, racking up rebounds, blocks, assists, and points. Mike Scrafano entered the game and added to the lead with two offensive rebounds and six points in the quarter. The quarter ended with a 35-22 lead for Lodi. Lodi remained relentless in the third quarter, getting right back to action with a fast break layup by Chris Rivas. Pepin then added two points while getting fouled after pulling down an offensive rebound. In addition, Mendez held the team's lead with his pin-point distribution of the ball on offense, and scored multiple fast break points through out the quarter. The quarter ended 34-51 with Lodi holding up their lead.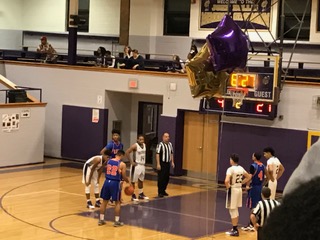 The fourth quarter began with Mendez being fouled, where he was then sent to the line and successfully completed two for two of his free throws. Mendez then scored another smooth bucket off a clean assist from Pepin. Jont'a Bianco continued to stretch the lead with a fast break layup. Lodi was then up 63-50 with signs of a Garfield comeback looking very slim. Garfield fans became agitated as Lodi's defense stayed strong in the last few moments of the game.  With only 26 seconds left, sophomore Justin Soto was sent to the line to secure the 17 point lead. He finished the game 100% from the free throw line.
The game ended with a final score of 68-51, Lodi win. When asked about the game Soto said, "We came out prepared to get a victory on Garfield's home court. Lodi came out with a lot of intensity that Garfield couldn't match." Pepin finished the game with 14 points , 17 rebounds, and seven assists. Fontanillas was a big scorer with 13 points, along with Mendez who racked up 12 points. Congratulations to the boys varsity team, and good luck to them on their next away game against Eastern Christian on Thursday, Jan. 19.