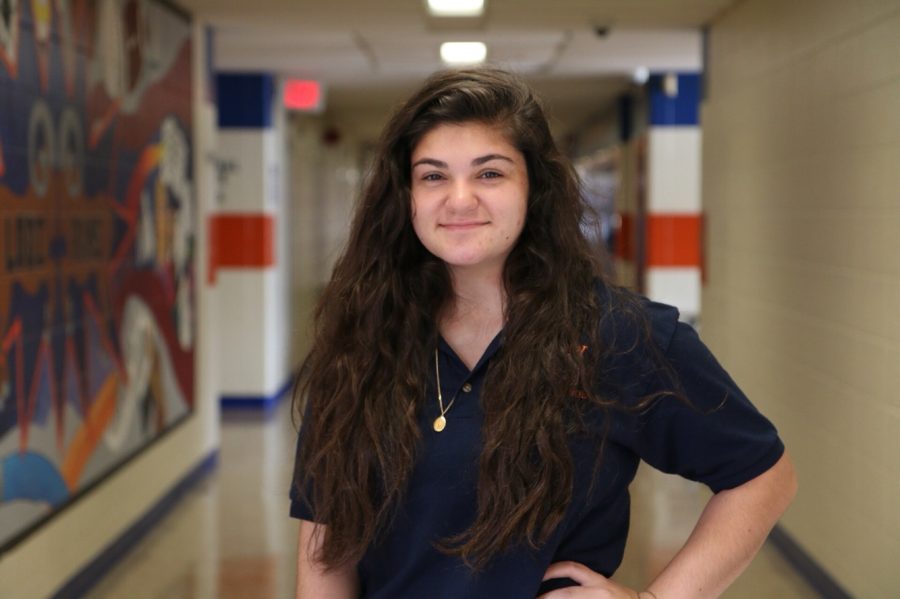 Q:What are you most passionate about in school/life?
A: Rachel
 feels the strongest about her family and friends. Spending time with her loved ones makes her bad days seem frivolous.
Q:What do you think is your biggest accomplishment?  
A: Rachel considers getting her first job has been her greatest accomplishment. She puts herself out there and was able to get the job solely based on her skills. She has gained independence having her first job.  
Q:If you could chose one thing to do for the rest of your life what would it be?
A: 
Rachel would have a job where helping people is the main task. She feels very strongly about making sure other people are never in need. Making people happy is her biggest goal in life.  
Q:What does being the cheer captain mean to you?
A: As a senior captain Rachel wants to set an example to future captains from the example that has been set by prior captains. Being in the position of authority she wants to be able to develop relationships with underclassmen and hopefully gain their trust.
Q:What's one fun fact about you.
A: Rachel is naturally loud which is the reason you will typically hear her yelling all the time.
Q:
What's your favorite thing to do out of school? 
A: Rachel enjoys getting sleep.
Interviewed by Carolina Arango
Rachel Leto, Author
Jun 20, 2017

Bright Seniors, Brighter Futures

(Story)

Jun 20, 2017

Love of a Teacher

(Story)

May 19, 2017

60 Q's: Keeping Up with Canni

(Story)

May 19, 2017

60 Q's: What's Happening with Hipkins

(Story)

May 05, 2017

Survival of the Fittest

(Story)

May 05, 2017

Tirico Takes on Chapter Two

(Story)

Apr 13, 2017

60 Q's: Talking with Tarleton

(Story)

Apr 13, 2017

Guess the Teacher: English Department

(Story)

Apr 13, 2017

Rampage Riddlez with the English department

(Story)

Mar 30, 2017

Are You Smarter Than a Science Teacher?

(Story)

Mar 30, 2017

A Scientist in the Making

(Story)

Mar 30, 2017

Guess the Teacher: Science Department

(Story)

Mar 09, 2017

Paving his Way through LHS

(Story)

Mar 09, 2017

Guess the Teacher: Math Department

(Story)

Mar 09, 2017

Mathematician Madness

(Story)

Feb 14, 2017

14 Days of Love: Day 14

(Story)

Feb 13, 2017

14 Days of Love: Day 13

(Story)

Feb 12, 2017

14 Days of Love: Day 12

(Story)

Feb 11, 2017

14 Days of Love: Day 11

(Story)

Feb 10, 2017

14 Days of Love: Day 10

(Story)

Feb 09, 2017

14 Days of Love: Day 9

(Story)

Feb 08, 2017

14 Days of Love: Day 8

(Story)

Feb 07, 2017

14 Days of Love: Day 7

(Story)

Feb 06, 2017

14 Days of Love: Day 6

(Story)

Feb 05, 2017

14 Days of Love: Day 5

(Story)

Feb 04, 2017

14 Days of Love: Day 4

(Story)

Feb 03, 2017

14 Days of Love: Day 3

(Story)

Feb 02, 2017

14 Days of Love: Day 2

(Story)

Feb 01, 2017

14 Days of Love: Day 1

(Story)

Jan 19, 2017

60 Q's: The Inside Scoop on Castro

(Story)

Dec 23, 2016

Believe in the Miracles of Christmas

(Story)

Dec 23, 2016

Santa and Rudy Visit LHS

(Story)

Dec 14, 2016

The Third Day of Christmas

(Story)

Dec 13, 2016

The Second Day of Christmas

(Story)

Nov 23, 2016

Heart of a Teacher

(Story)

Nov 10, 2016

And the Next President of LHS is…

(Story)

Oct 30, 2016

Scary Story Time with Tarleton

(Story)

Oct 13, 2016

Breaking the Ice with Mrs.Y

(Story)

Sep 29, 2016

60 Q's: Not an Ordinary Interview

(Story)

Sep 29, 2016

Interns: They'll Be There for You

(Story)

Sep 29, 2016

The Get Down with Guidance!

(Story)

Sep 18, 2016

Tis' the Fall Sports Season

(Story)

Sep 18, 2016

Freshmen Aren't the Only Newbies

(Story)