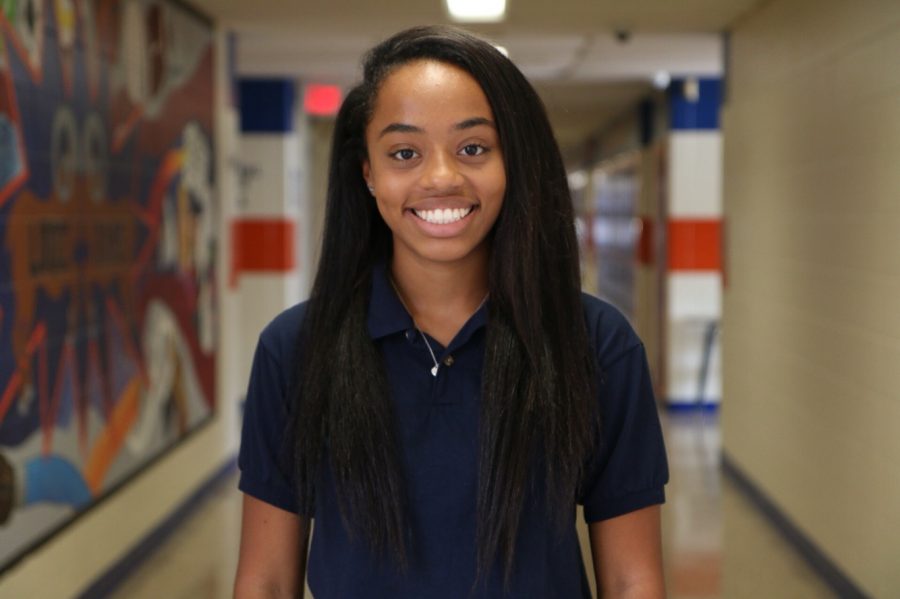 Q:Why were you interested in joining rampage?  
A: During her first couple of years in high school Alize wasn't as involved in the school as she would've liked to be. Being able to join rampage is a fun way for her to be able to get to know her teachers and peers, but to also become more involved with school activities.  
Q:What's your favorite thing to do...besides sleep and eat?  
A: 
When's she's not sleeping or eating, Alize loves to listen to music, more specifically she loves putting Beyonce and Ed Sheeran on repeat.
Q:If you could be anywhere in the world, where would you be?
A: 
Having the opportunity to be anywhere in the world Alize would go to London. After going there two years ago she fell in love with it. But now that she's older she'd love to go back and experience it all over again!
Q:On a scale from 1-10 how stressed are you for college?  
A: Br
eaking the scale, Alize is at 18! But, it's nerves mixed with excitement!
Q:What's your favorite show on Netflix?
A: 
This being a difficult question for Alize because she has a lot of favorite shows. It would be a tie between Criminal Minds or Grey's Anatomy.
Interviewed by Hasmin Llamoca
Alize Borjas, Administrator
Jun 20, 2017

Bright Seniors, Brighter Futures

(Story)

Jun 20, 2017

Love of a Teacher

(Story)

May 19, 2017

60 Q's: Keeping Up with Canni

(Story)

May 19, 2017

60 Q's: What's Happening with Hipkins

(Story)

May 05, 2017

Survival of the Fittest

(Story)

May 05, 2017

Tirico Takes on Chapter Two

(Story)

Apr 13, 2017

60 Q's: Talking with Tarleton

(Story)

Apr 13, 2017

Guess the Teacher: English Department

(Story)

Apr 13, 2017

Rampage Riddlez with the English department

(Story)

Mar 30, 2017

Are You Smarter Than a Science Teacher?

(Story)

Mar 30, 2017

A Scientist in the Making

(Story)

Mar 30, 2017

Guess the Teacher: Science Department

(Story)

Mar 09, 2017

Paving his Way through LHS

(Story)

Mar 09, 2017

Guess the Teacher: Math Department

(Story)

Mar 09, 2017

Mathematician Madness

(Story)

Feb 14, 2017

14 Days of Love: Day 14

(Story)

Feb 13, 2017

14 Days of Love: Day 13

(Story)

Feb 12, 2017

14 Days of Love: Day 12

(Story)

Feb 11, 2017

14 Days of Love: Day 11

(Story)

Feb 10, 2017

14 Days of Love: Day 10

(Story)

Feb 09, 2017

14 Days of Love: Day 9

(Story)

Feb 08, 2017

14 Days of Love: Day 8

(Story)

Feb 07, 2017

14 Days of Love: Day 7

(Story)

Feb 06, 2017

14 Days of Love: Day 6

(Story)

Feb 05, 2017

14 Days of Love: Day 5

(Story)

Feb 04, 2017

14 Days of Love: Day 4

(Story)

Feb 03, 2017

14 Days of Love: Day 3

(Story)

Feb 02, 2017

14 Days of Love: Day 2

(Story)

Feb 01, 2017

14 Days of Love: Day 1

(Story)

Jan 19, 2017

Getting Personal with Our Principal

(Story)

Dec 23, 2016

Santa and Rudy Visit LHS

(Story)

Dec 23, 2016

Believe in the Miracles of Christmas

(Story)

Nov 23, 2016

Heart of a Teacher

(Story)

Nov 10, 2016

And the Next President of LHS is…

(Story)

Oct 30, 2016

Scary Story Time with Tarleton

(Story)

Oct 13, 2016

Recognizing Mrs. Riley

(Story)

Oct 13, 2016

60 Q's:the Long Interview

(Story)

Sep 29, 2016

60 Q's: Not an Ordinary Interview

(Story)

Sep 29, 2016

Interns: They'll Be There for You

(Story)

Sep 29, 2016

The Get Down with Guidance!

(Story)

Sep 18, 2016

Freshmen Aren't the Only Newbies

(Story)