Recognizing Mrs. Riley
LHS's Vice Principal Assistant, Mrs. Riley, is hardworking and a huge contributor to the success of each school year. From dealing with issues around the entire building, to being Mrs. Yzquierdo's right hand women, she always has her hands full. Mrs. Riley has dedicated 23 years to LHS and the Rampage thought it was time to get to know her a little better!
The Rampage had a chance to ask Mrs. Riley a few questions about herself and her time in LHS.
Q: What are three words that describe you and why?
A: I'm energetic, outgoing, and happy because life is too short!
Q: What are you passionate about and why?
A: I'm passionate about my family; strong family ties build good foundations for your children's future, along with  memories that last a lifetime.
Q: What are some of your responsibilities at LHS?
A: I run various reports concerning attendance and discipline.  Handle students needs in school and direct them to the proper authority if necessary. I assist with various situations that occur in the Vice Principal's office involving discipline.
Q: What is one lesson you have learned from working at LHS?
A: Having patience is one lesson I've learned from working here.
Q: What advice would you give someone that wants to enter the education field?
A: It is more involved than just teaching. A good teacher has to also be a good listener.  He/she needs to know how to reach children on different levels, be compassionate, but maintain control, and try to be a creative interesting teacher.
Q: If you could be a celebrity for a day, who would you be?
A: Right now with the Presidential Election coming up – I think Michelle Obama because she is such an amazing woman and speaker.
Q: If you could travel to any country, where would it be and why?
A: Italy – someday in the near future I hope to travel there.  Last year, my daughter traveled through Europe and Verona, Italy was her home base.  She had so many interesting stories to tell, not to mention the wonderful meals she ate there. Its history, beauty, and culture is very appealing to me and it is definitely on my "bucket list"!
About the Contributor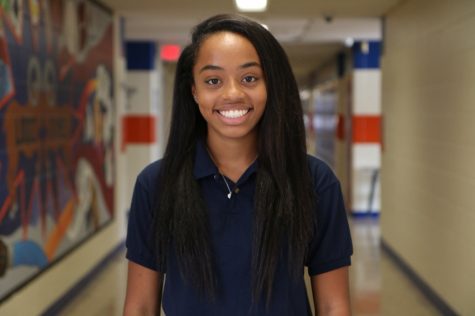 Alize Borjas, Administrator
Q:Why were you interested in joining rampage?  A: During her first couple of years in high school Alize wasn't as involved in the school as she would've...