Big Changes, Big Opportunities: The Future of Lodi High School
Over the past years, our guidance department and the administration have been hard at work to establish a system of higher education and further academic rigor at Lodi High School. This year they have put their plan into action. The Felician University-Lodi High School Academy of Research & Advanced Academics (ARAA)  is a program available for prospective eighth grade students to apply to as they enter LHS. This program sets these students on a curriculum of strictly honors/AP classes throughout all four years of high school. By the time ARAA students reach the summer after their sophomore year, they have the opportunity to enroll in a maximum of two Felician University Courses each semester through the Spring of their senior years at no cost.  Students can earn up to 36 college credits before graduating high school through this program. This not only provides prospective students with the opportunity to expand their mind and gain more knowledge, but it also prepares students for the workload and rigor of college. Overall, the goal of The Felician University-Lodi High School ARAA is to foster a growth of appreciation for education among students to set them on the path of success.
Mrs. Orosz, lead counselor of the Guidance Department, is optimistic about implementing this program for future generations. When interviewed, she stated:
"The administration has organized and implemented this program through collaboration with Felician University.  A great deal of work and planning went into making this program a reality. I expect that the program will offer high achieving students the opportunity to really challenge themselves at Lodi High School.  I expect students will take full advantage of the opportunities afforded to them by the program and hopefully become even better prepared to achieve their postsecondary goals."
This past week, Lodi High School hosted an open house for the prospective eighth grade students of The Felician University-Lodi High School ARAA. This select group of students was escorted through the AP and Honors classes available to them at LHS by some of the members of National Honor Society and were then given the opportunity to ask some members of a senior student panel some questions about high school. Once again, outstanding work by the guidance department for setting up the open house and the presentation, which we hope encourage the young, great minds of Lodi to continue their pursuit towards higher education through The Felician University-Lodi High School ARAA.
About the Contributor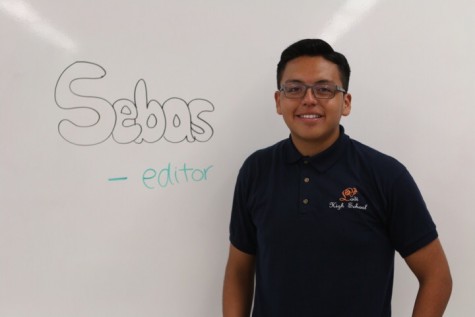 Sebastian Esquivel, Editor
Q: How would you describe yourself in five words?
A: I'd say I am tenacious, diligent, compassionate, honest, and responsible.

Q: What are you plans...