Day Of Silence
On Friday, April 17, a vast majority of the students at Lodi High School pledged to support individuals who have been harassed due to sexual orientation. These students vowed to remain silent an entire day in order to support members of the LGBQT community. Along with an entire day of silence, students wore red shirts and bracelets to symbolize the death caused due to issues involving LGBQT bullying in society and in schools. According to the GLSEN, the gay, lesbian, and straight network, "Under the Constitution, public schools must respect students' right to free speech. The right to speak includes the right not to speak, as well as the right to wear T-shirts expressing support for a cause." Below are the officers of GSA who organized this activity in our school: Kayla Fiscina (President), Shirley Olea (Vice-President), and Osama Al Safarjalani (Vice-President).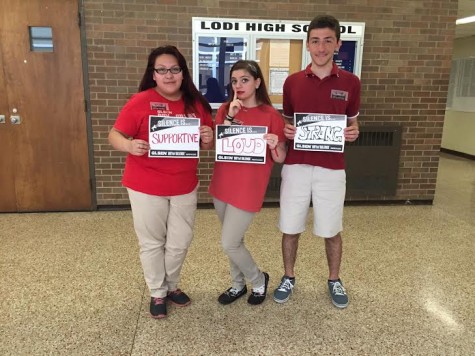 About the Contributor
Kathy Lopez, Editor
Q: Where do you plan on going to college?

A: Rutgers

Q: What do you plan on studying?

A: Pre-med

Q: What are your favorite hobbies?

A: Watching...