March Sounds: Student Edition
This month, we come back to our monthly album reviews with student recommendations! We asked a student from each grade to recommend their favorite albums; and, we received an interesting variety of sounds. Here are our reviews for students' favorite albums:
ELLA SAWAL: MANIC BY HALSEY

Manic is Halsey's third album, released on Jan. 17, 2020. Halsey mixes and bends genres to create the sounds heard in this album with alternative rock, hip-hop, and even an indie feel. The album opens with "Ashley," a song reminiscent of others Halsey has worked on in the past. Other tracks have a country-inspired sound, like in "You should be sad" and others give a view of the strong angst she holds, such as in "929." Ella says this album depicts Halsey as her true self, Ashley. She believes that many can relate to tracks in the album, "whether it's from experiences in relationships that they went through or that they go through in their personal lives." 
Allaina's take: 7/10
I've never been the biggest fan of Halsey, but I will admit that this album is not bad. I give it a seven due to my own musical preferences as Halsey just does not hit hard for me. I remember hearing "Graveyard" in various stores during the past year, and I grew tired of that song pretty quick. The rest of the tracks, though, were alright. I could not really pick a "favorite" track, but one that stands out to me the most is "Clementine." I thought it was cool how she got well-known artists on the album such as Alanis Morissette and Dominic Fike, and gave them a little song, or interlude, of their own. Overall, Manic does not match my usual vibe, though I might go back to one or two tracks in the future. 
ARAM: 808S AND HEARTBREAK BY KANYE WEST
Whenever he isn't releasing clothing lines and running for President, Kanye West has been an extremely well known American rapper since the early 2000s. This particular album is his fourth studio album which was released in 2008. This album is a mix of pop, synth-pop, and even R&B. It was listed on the "The 40 Most Groundbreaking Albums of All Time" by Rolling Stone magazine. This album included vocals by Kid Cudi and Lil Wayne. It also explores themes such loss and struggles.
Natalia's take: 9/10
I have listened to this album a few times growing up and it is genuinely a very underrated album by Kanye. I think it was so harshly criticized because it did not fit into Kanye's known purely rap genre. This was outside his comfort zone, and in my opinion, that is what makes it so good. Songs like "Heartless" and "Amazing" are timeless replayable bops. Kanye described this album saying, "808s came from suffering multitude losses at the same time—it's like losing an arm and a leg and having to find a way to keep walking through it." This feeling is evident through each song you listen to. If you are going through a rough patch, and want to feel it through music, or you just want a great album to listen to, this is for you.
EILEEN TEJADA: FINE LINE BY HARRY STYLES
Harry Styles' much celebrated  sophomore album Fine Line was released in 2019. Even if you are not familiar with Styles' work, you can hear songs off of this album on TikTok and even your local grocery store. Fine Line explores topics such as the sensations of a new relationship in "Golden" and the desire to return home in "Canyon Moon." Compared to other members of One Direction, Styles climbed to the top of the charts with his past two albums and has been highly acclaimed by many critics and longtime fans. To Eileen, Fine Line displays an amazing mix of many genres and "tells an amazing story" that Styles does not fail to show. 
Allaina's take: 9/10
As a kid, I loved One Direction. I suppose it can tie into my liking for bands such as NSYNC now. It may also explain the reason as to why I do not dislike this album as much as I thought I would. Fine Line is definitely not an album I would repeatedly listen to from front to back, though I found the songs really good. Good enough to periodically come back to. In the past year, I've heard many rave about this album and I can see why. It is also nice to see Styles form a career outside of the band as he has been the most successful to do so out of the five of the members. This album made me excited to see what is to come from Styles' career in the future and it is definitely something I can vibe to. 
RYAN ECHEGARAY: METEORA BY LINKIN PARK
This was rock band Linkin Park's second studio album. It was released in March of 2003. It was ranked number 36 on the Billboard Top 200 Albums of the 2000s. Linkin Park is an American rock band formed from California. This album follows their sound from their previous album Hybrid Theory and took almost a year to release. But all the time working on it was worth it, as it received many positive reviews and rose high on music charts.
Natalia's take: 9/10
I personally grew up listening to them, alongside my dad; therefore, listening to his album was a very nostalgic moment for me. This album screams early 2000s rock. It includes rap versus, loud drum beats and rhythms. Meteora is the blueprint for early rock and roll. It feels too short, and it's the type of album you want to replay over and over because you do not want it to be over. Not only are the beats catchy, but the lyrics speak the most. I think that is what impacted me the most growing up listening to this album. Songs like "Numb" makes you want to scream at the top of your lungs in the car. If you have not listened to this album because you do not think it is your cup of tea, I recommend definitely giving it a try.
About the Contributors
Allaina Padolina, Writer
Q: Do you play an instrument?

A: Yes. I play guitar mainly and some bass. I'm self-taught.

Q: What's your least favorite animal?

A: If I had...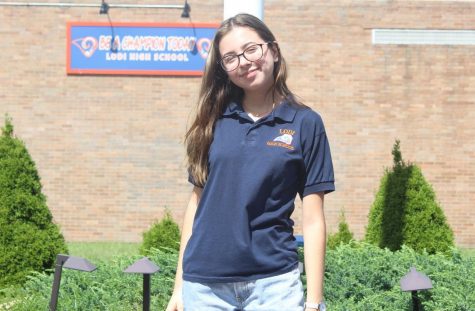 Natalia Quinones, Writer
Q: What is your goal this year?

A: My goal is to focus on my grades and mental health, and to take advantage of my senior year.

Q: How would you...