Black Figures in Music
In history, black people have been making a big impact in many different aspects of society. We do not usually think about it, but key black figures have shaped the music we listen to today! Here are some of the most famous black acts in history:
Duke Ellington
Edward Kennedy Ellington was the leader/originator of big-band jazz for more than 50 years. Throughout his career he wrote more than one thousand compositions, which became standards in the jazz legacy. 
Muddy Waters
Born in Mississippi in 1913 as McKinley Morganfield, later became known as the "Father of Modern Chicago Blues." He helped invent and influence the Mississippi Delta blues with mixing in sounds of electric guitar. 
Ella Fitzgerald 
"First Lady of Song" Ella Jane Fitzgerald, was extremely well known for her ability in scat singing. She recorded various blues, swing and jazz music and is most known for her interpretations of the Great American Songbook. 
Chuck Berry 
The "Father of Rock and Roll," Charles Edward Anderson Berry was exposed to music at a very young age. Berry soon became one of the main rock musicians and influencers of his era. 
Ray Charles
Often referred to as "The Genius," Ray Charles Robinson developed the genre of soul music throughout the 1950s. Although he became fully blind by the age of  seven, that did not stop him and he continued to become an American sensation. 
Jimi Hendrix 
Although James Marshall Hendrix's music career only lasted about four years, he became one of the most influential musicians working with electric guitars. He was one of the first artists to use tone-altering effects in rock. 
Aretha Franklin
"Queen of Soul," Aretha Franklin was born in Tennessee, and later became a songwriter, actress, pianist, and civil rights activist. She was awarded the National Medal of Arts and the Presidential Medal of Freedom, and then became the first female performer in the Rock and Roll Hall of Fame.
Miles Davis 
One of the most influential American jazz musicians is Miles Dewey Davis. He experimented with rock, funk, and African rhythms. Rolling Stone claimed he was the most revered jazz trumpeter of all time.
The Supremes
Originating from Detroit in 1955, The Supremes were an all female singing group. They sang R&B, soul and doo-wop, becoming America's most successful vocal group. The group consisted of Florence Ballard, Mary Wilson, Diana Ross, and Betty McGlown. 
Stevie Wonder 
Stevland Hardaway Morris creatively and influentially used electronic musical instruments during the 1970s. He helped reshape the conventions of R&B and is seen as a genius in music. Wonder was blind, though this did not stop him from composing hits.
Bob Marley
Born in Jamaica, Robert Nesta Marley became a pioneer in reggae. He had a very distinctive way of writing and performing his songs. He also added spirituality into his music, making him a Rastafari icon. 
Whitney Houston 
Whitney Elizabeth Houston is the most awarded female artist of all time. She has sold over 200 million records worldwide, and is regarded as one of the greatest artists of her time, expanding through genres such as R&B, soul, and gospel. 
Prince
Prince Rogers Nelson was a worldwide sensation for his work across multiple genres and his flamboyant and androgynous persona. He influences many artists to this day. 
N.W.A. 
N.W.A is one of the most influential, yet controversial hip hop groups. Originating from Compton, California, this group became a figure in the gangsta rap subgenre and also became very controversial yet significant. N.W.A consisted of the most famous rappers today, such as Ice Cube, Dr. Dre, Eazy-E, MC Ren, DJ Yella, and The D.O.C.
Run–D.M.C.
Another influential and important hip-hop group is Run-D.M.C, originally from New York. They were an extremely famous hip hop act of the 1980s and became the first hip hop group to achieve a gold record. The group's original members are Jam Master Jay, Darryl McDaniels, and Joseph Simmons. 
Tina Turner 
Anna Mae Bullock, more commonly known as Tina Turner, is known for her energetic stage presence, as well as her extremely powerful vocals which made her career. She was the first black artist and first female to cover Rolling Stone magazine.
2Pac
Tupac Amaru Shakur was an extremely influential rapper and actor. He was known for addressing social issues and being a symbol of activism against inequality. He was inducted in the Hip-Hop Hall of Fame, having sold over 75 million records worldwide. 
Kanye West
Kanye Omari West is a Hip-Hop rapper, record producer, and fashion designer. Throughout the years he experimented with various musical genres. Although controversial in some senses, he became known as one of the 100 most influential people in the world in 2005 and 2015. 
Jay-Z
Shawn Corey Carter became and is still one of the most influential Hip-Hop artists of our time. From his first album, he grabbed widespread media attention. He holds the record for the most number-one albums by a solo artist on the Billboard 200. 
Childish Gambino 
Donald McKinley Glover Jr. is an American rapper, singer, producer, actor and director. He writes and raps hip-hop, indie pop, and psychedelic songs which have brought him fame and attention. He continues releasing music and acting to the present day. 
About the Contributors
Allaina Padolina, Writer
Q: Do you play an instrument?

A: Yes. I play guitar mainly and some bass. I'm self-taught.

Q: What's your least favorite animal?

A: If I had...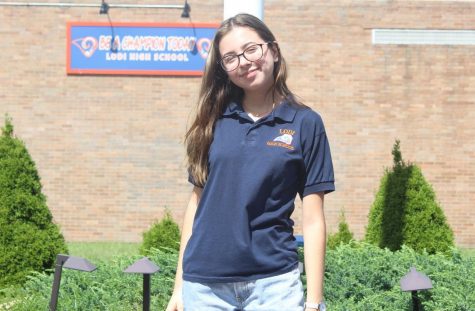 Natalia Quinones, Writer
Q: What is your goal this year?

A: My goal is to focus on my grades and mental health, and to take advantage of my senior year.

Q: How would you...