A Year without a Legend: Paying Homage to Kobe
The world stopped on Jan. 26, 2020. That date marks the one year anniversary of Kobe Bryant's death. His death feels much like a fever dream, and marks the question: Why Kobe? A seemingly normal, retired NBA basketball player lost his life in a helicopter crash along with nine other people, one of them being his daughter, Gianna Bryant. After one year, it is still hard to comprehend Kobe's death and it is marked as one of the craziest things to come out of 2020. It was the type of death where you know what you were doing, who you were with and where you were when you heard the news. Similar to how our parents remember where they were when they heard the deaths of Princess Diana or Michael Jackson, we have Kobe.
On the day of Jan. 26, 2020, thousands of fans were seen paying their respect to the Lakers legend outside of the Staples Center. Flowers with the Lakers colors, pictures, and signed basketballs crowded the front of the building. Fans attended wearing their Kobe and team gear to pay their respects. The current Lakers team learned of the news while they were traveling back to LA after a Saturday night loss against the Philadelphia 76ers. Lebron James kept quiet the whole day, then took his response to social media on Jan. 27. James recalls speaking to Kobe just on the morning of the 26th before the incident. The last social media post Kobe ever made was a tweet congratulating Lebron James on passing Kobe's 33,643 all time scoring points to make Lebron third on the list with 33,644 points after making a layup in the third quarter. "Continuing to move the game forward @KingJames, Much respect my brother #33644."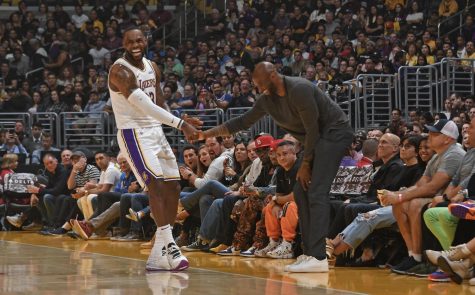 On Feb. 24, 2020, a heartwarming memorial was held for Kobe and Gianna, along with the seven other victims involved in the crash. It was a time where athletes and celebrities could come together to remember the great, Kobe Bryant. People who gave heartening speeches included Kobe's protege, Diana Taurasi, Gianna's mentor, Sabrina Ionescu, UConn women's basketball coach, Geno Auriemma, Michael Jordan, Shaquille O'Neal, LA Lakers GM, Rob Pelinka and Jimmy Kimmel. Perhaps one of the most moving speeches was said by Vanessa Bryant, Kobe's wife and Gianna's mother. Vanessa fought tears during her speech, honoring her daughter first and Kobe second. She remarked,"God knew they couldn't be on this earth without each other. He had to bring them home to have them together."
Just 26 days into 2020, Kobe's death created a huge emptiness in the world, especially the NBA community. When news broke out, former teammate, Caron Butler, called Kobe's phone repeatedly with hopes he would answer. Tyler Herro and Donovan Mitchell called for the NBA to retire the number 24, while Tristan Thompson called for retiring both numbers 8 and 24. Jamal Crawford stated that the new NBA logo should be changed to Bryant. Dallas Mavericks owner, Mark Cuban, vowed that the number 24 will never again be worn by a Dallas Maverick. Other players such as Paul George, Dwayne Wade, Grant Williams, and Carsen Edwards were in disbelief of his death and believed the news was a hoax.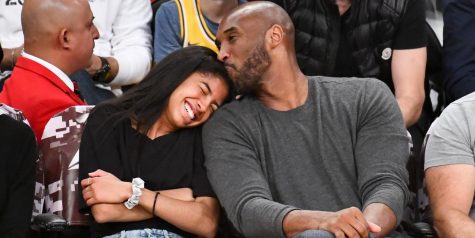 The Lakers franchise has made no plans to conduct anything this upcoming 26th, but maybe this is the best option. Though remembrance is a step in grieving the loss of a loved one, it can bring trauma. With 2020 already being a harsh year that has affected us all, maybe it is best if we continue to remember the Black Mamba in our own ways, without a large tribute or remembrance ceremony. There will be no special jerseys and so far no mention of a special ceremony in his honor. Upon the one year anniversary, many players still find themselves in a dark space, such as Lebron James who recently said: "I try not to put myself back in that headspace, because it's just too dark for not only myself, but for our organization and for everyone that's involved in it."
Kobe dedicated his life to basketball, and after his retirement, he dedicated himself to helping his daughter succeed in his craft. Kobe's made a substantial impact in the sports world. It was bigger than his 81 point game in 2006, or his impressive stats (which include being a 5x NBA Champion, 2x NBA Finals Champion, an NBA Most Valuable Player or 18x NBA All Star). He was selfless and supported his daughter on her own basketball journey. Gianna would've gladly carried her father's legacy, and Kobe would've happily sat back and watched what his daughter acquired from him over the years.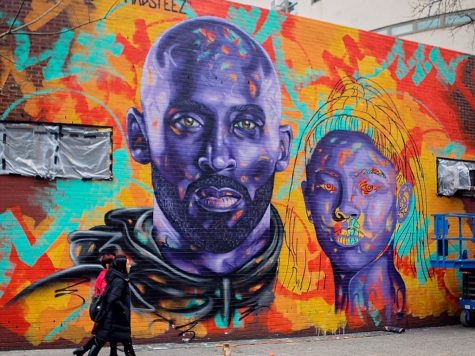 Sadly, this is not something that we will be able to see in the future. The loss of Kobe Bryant has affected many aspiring athletes and fans. It's heartbreaking to see someone you've looked up to for so long be taken away in an instant. Many people, including myself, still cannot get over the fact that he is gone. Every morning when I wake up and check my phone, there is a picture of Kobe sitting in the locker room holding a trophy after the Lakers won the 2003 NBA Championships with me photo-shopped horribly into it. I have no plans on changing it. His death feels surreal, almost like a glitch in reality that wasn't supposed to happen. Even when I shoot a piece of crumpled up paper into a garbage can and say "Kobe!" I get goosebumps. If there is one takeaway quote to include, it would be what Michael Jordan announced during Bryant's memorial:  "When Kobe Bryant died, a piece of me died."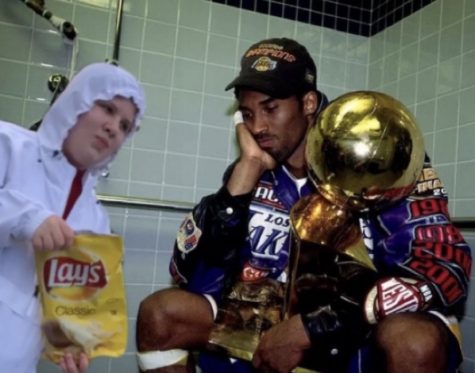 About the Contributor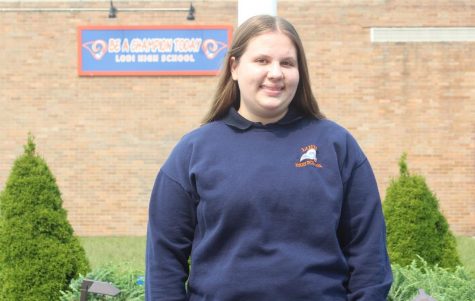 Taylor Hoshafi
Q: Who's your favorite superhero?

A: Spiderman. Even though I hate spiders, he's cool.

Q: What's your favorite movie?

A: Clue because it has...