Arts and the Pandemic
The year 2020 has taken a toll on everyone in many ways. In particular, arts and entertainment were greatly affected by COVID-19 and the industry took a huge turn, for both the good and bad. Here is a list of key events that transpired during the pandemic:
January:
Billie Eilish wins five Grammy awards
77th Golden Globe Awards
February:
Parasite director, Bong Joon Ho, takes home five Academy Awards
March:
Broadway shuts down indefinitely
Movie businesses come crashing down
Live music is put on a break
Several shows such as Atlanta and Euphoria are put to a stop
James Corden showcases various artists from their homes around the world to perform some songs
Tiger King is released on Netflix
April:
Saturday Night Live comes back with ZOOM table reads
May:
The cast of The Office reunites via ZOOM call
June:
Kurt Cobain's guitar during Nirvana's MTV Unplugged show sells for a record $6 million
July:
Parks and Recreation special premieres, supporting the COVID-19 fund
Kanye West announces he is running for president
Twitter accounts of many famous people are hacked
August:
Chadwick Boseman dies of cancer at 43 on Aug. 28th
BTS's releases Dynamite, which becomes the 1st video to be watched more than 100 million times in 24 hours on YouTube
September:
Mulan is released on Disney+
Several shows start a new season on NBC
October:
Eddie Van Halen dies at 65 on Oct. 6
Sean Connery, Scottish actor and producer, dies at 90
November
Alex Trebek, Canadian-American TV game host (Jeopardy), dies due to cancer at 80
December:
Broadway legend, Ann Reinking, dies at 71 on Dec. 12
Ratatouille: the Musical streams on TikTok to raise money for the Actors Fund
Twenty One Pilots become the title holder of the world's longest music video for "Level of Concern"
This year was without a doubt a very complicated and harsh year for the entertainment industry. Many plans were ruined and many lives were taken. Yet, through it all, the industry managed to keep the spirit alive by finding clever ways to bring the entertainment to the safety of our own homes.
About the Contributors
Allaina Padolina, Writer
Q: Do you play an instrument?

A: Yes. I play guitar mainly and some bass. I'm self-taught.

Q: What's your least favorite animal?

A: If I had...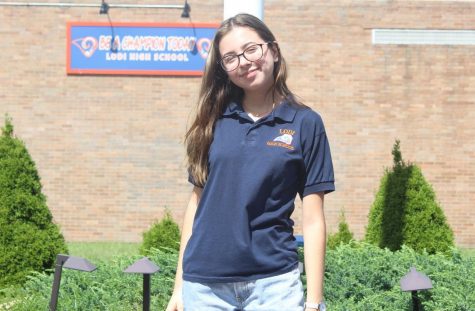 Natalia Quinones, Writer
Q: What is your goal this year?

A: My goal is to focus on my grades and mental health, and to take advantage of my senior year.

Q: How would you...