October Sounds
October, the month where the leaves are starting to fall as the air becomes crisper and the sun sets earlier than usual. Some October days all you want is to allow yourself to become one with your couch, while sipping a cup of coffee and listening to good music playing in the background. Why not listen to one of these albums?
Apolonio – Omar Apollo
Upcoming artist Omar Apollo released his third album on Oct. 21, 2020. This was an anxiously awaited release from his fans. Omar has an individual funk that captures his listeners. In this album, Omar jumps back and forth between different styles of music, ranging from a chill vibe featured on "Want U Around," to an upbeat Mexican corrido featured on "Dos Uno Nueve." Not only did this 23-year-old capture his audience with catchy tunes, but also lyrics that are relatable. He sings about heartbreak, vulnerability, and angst, making the album feel personal, like an open-book his fans are invited to listen to. Apolonio is just a taste of Omar's potential as his career is just starting and leaves his listeners wanting more.
Natalia's take: 9/10
Now, I love Omar Apollo. I have since 2018 and I can personally say how much more incredible he sounds live. This album was definitely worth the wait. Omar is just starting to explore his sound, explore his full ability to write, and create new experiences for his audience. The catchy rhythms are hard not to fall in love with. He is rising in the charts, and quickly; therefore, I hope he does not get engulfed by his fame, and in turn, begins to create music just to release it. His music has always felt personal and real, which is a main reason why it's so captivating. I cannot wait to hear his future projects and I am excited to see what his music career holds for him.

Song Machine, Season One: Strange Timez – Gorillaz
Released on Oct. 23, 2020, Gorillaz is back to monkey around with their seventh studio album, Song Machine, Season One: Strange Timez. This album features artists on every track, such as Elton John, JPEGMAFIA, and Beck among other well-known artists. Strange Timez is also from the group's ongoing web series, Song Machine. The group has been teasing fans with new singles since January. Opening with "Strange Times" featuring The Cure's Robert Smith, Gorillaz takes the listener on a ride through various sounds and vibes, carrying throughout the whole album. The album then winds down with "Momentary Bliss" featuring slowthai and Slaves, blending sounds of punk and psychedelic synth-pop. Longtime fans have been waiting for this album for months and continue to be amazed by Damon Albarn's brilliance and overall talent.
Allaina's take: 8/10
It is hard to ever get tired of Gorillaz with their varying sounds over 20 years. Sitting at about 42 minutes, the album offered interesting sounds (in a good way, of course). I liked how each song featured an artist and how anyone can pick any one of the 11 songs and say, "Hey, I know this artist!" I only gave this album an eight as it was not completely my taste. As captivating as the songs were, some aspects did not sit completely well with me. I definitely vibed with "Aries," which featured Peter Hook from one of my all-time favorite bands, and "Momentary Bliss." These were two songs that I thought were the best. This album, for me, is good for a deep listen as well as just background music while doing other things. I will definitely be on the lookout for Season Two in the near future!
Wachito Rico – Boy Pablo

Nicolas Muñoz, known as Boy Pablo, has released his debut studio 13 track album, Wachito Rico. He has been producing and releasing music since 2015, with the song "Everytime" becoming an international hit back in 2017. Ever since then, millions of people have been listening to his upbeat tunes and whimsical lyrics, earning him three million monthly listeners on Spotify. The album quickly became a popular hit, "hey girl" and "honey" each earning more than five million streams. The name of this album comes from a famous Chilean expression which translates to "handsome boy." It features snazzy guitar solos and Latin disco. This bedroom-pop album is the epitome of who Boy Pablo is.
Natalia's take: 10/10
I honestly fell in love with the album from the first listen. Some songs are perfect to just dance along with alone in your room, and some tracks have you staring at your ceiling at 3:00 am wondering where it all went wrong. This album just makes you feel a large range of emotions, something most albums today lack. I was one of those listeners who was captured by Boy Pablo's song "Everytime" and he has stuck close with his unique sound since then. His songs always have that nostalgic feeling to them which just makes you want to have it on repeat all day.
Remote – Wallows

Despite being caught in a pandemic, Wallows shows growth and creativity in their new EP, Remote. Remote gives listeners vibes from their past releases with evident variations in tracks such as "Virtual Acrobatics" and "Wish Me Luck." The EP explores topics such as the warm fuzzy feeling you get while in a relationship and insecurities people might contain in their heads. As the band was recording during the height of quarantine, each member did their parts separately and from their own homes, producing beautiful songs without the need of a full studio. Though the EP only features six tracks, it has received a very well response from their audience.
Allaina's take: 10/10
I might be biased since I love Wallows, but I truly did not see anything wrong with any of the tracks. To me, each song was likable in its own ways. My favorite track was "Dig What You Dug" as I thought it was simply the best track both musically and lyrically. Not only did I think the EP was a fun listen, I was also amazed by the group's capability to create these songs while being in separate spaces. Overall, this release makes me excited for what is to come for this group as they have been releasing banger after banger since 2017. This album proved that creative minds and productivity never stops, even during a pandemic.
This month was a month of new and familiar sounds, all catching the ears and interest of thousands of people, including yours truly. We hope you enjoy jamming out to these albums just as much as we did. Until next month!
About the Contributors
Allaina Padolina, Writer
Q: Do you play an instrument?

A: Yes. I play guitar mainly and some bass. I'm self-taught.

Q: What's your least favorite animal?

A: If I had...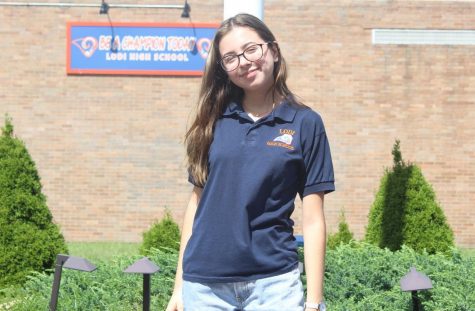 Natalia Quinones, Writer
Q: What is your goal this year?

A: My goal is to focus on my grades and mental health, and to take advantage of my senior year.

Q: How would you...