Respect Crew Respects Animals
When animal cruelty is brought up, most people cringe when listening to the reality of the viral, terrifying subject. People would rather ignore the issue than understand that it happens all of the time, all around us. In this case, it happened in a neighboring town where people chose animals to bring home and love without realizing how they may be leaving the rest of them to be treated.
On April 4, 2016 around 3 a.m., authorities found 67 puppies and small dogs locked away in a van with no food, no water and in 37 degrees Fahrenheit with no heat. These defenseless animals were cramped up in crates with 2-4 dogs squeezed into each one; some were unable to stand up. According to the officers, they were sitting in their own feces and urine for hours, crying, before being found and rescued.
Just Pups, in Paramus, was the pet shop responsible for the cruel conditions in which the dogs were found. All of these animals were brought to the hospital to be checked, but many needed to stay for further medical needs. The rest were transferred to the animal shelter, where they were taken in and cared for. But this drained the shelter of most of their supplies, which prompted them to reach out to the public and ask for their help. That's when the Respect Crew of Lodi High School decided to step in. Hearing of abandoned puppies breaks many hearts throughout the world but when it hits so close to our hometown, we felt it was our duty to help out those in need.
The Respect Crew is a group that Mrs. Kelly, Mrs. Passano, and Ms. Sciarra created for students to come together and promote kindness throughout the school and work to create a positive school climate. This time, they've decided to take their work outside of the school by raising money for the animal shelter in need. They set up tables throughout the lunch periods, to not only spread awareness, but to also collect donations. They collected animal food, blankets, bleach, Lysol, money and anything else that could help. In return, they are giving out little buttons in appreciation to say thank you for helping. Jonah Balagtas, president of the Respect Crew says, "We're just here, here to help with anything." If you'd like to donate, please see a Respect Crew representative or Ms. Sciarra. Any donation is greatly appreciated!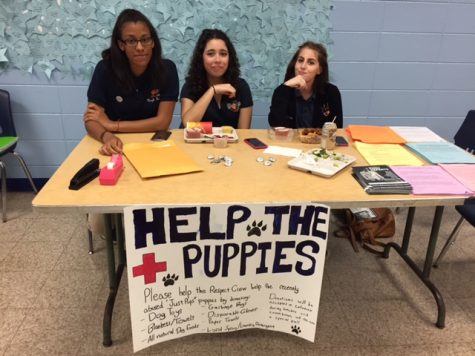 About the Contributor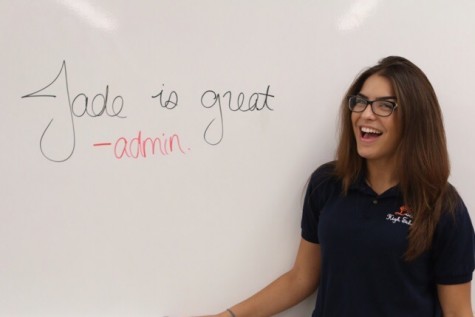 Jade Alameda, admin
Q: If you could be any animal, which would you be and why?
A: I'd be a panther, because they're so graceful, fast, and fierce.

Q: How would you describe...