Bundling Up for Winter Sports
With a change in season comes a change in sports. This edition we are showcasing the winter sports of Lodi High.
Basketball
Boys
Led by senior captains Ahmad Odeh and Edwin Alvarez, the Rams are seeking to further improve their performance on the season and look to guide their teammates on the road to victory. The team is coming off an overall record of 10-15 and hope to put all memory of the 2013-14 season behind them. Coach Terhune's team consists mainly of juniors and seniors with plenty of varsity experience under their belts. This will be an important season for Melvin Florian, who has been a varsity starter since his freshman year.
Senior point guard, team captain, and vocal leader Ahmad Odeh made his expectations clear for the season ahead of him, "We hope to win the holiday tournament, qualify for the county tournament, and make a run in states. We expect a 15-20 win season." The new face of the team, Assistant Coach Siginolfi, also shared his feelings for the upcoming season, "I'm excited to coach basketball. I've enjoyed the sport since I was young and grew up to play for Paramus Catholic High School. I feel that coaching the boys soccer team this year has prepared me well enough to now coach basketball. I'm hoping for the best this season and from the looks of it, the boys are hungry for wins this year." As the boys start their season with a positive outlook, there is nothing that stands in the way of their success.
Girls
The Lady Rams are coming off an impressive overall record of 24-10 in the 2014-15 season. Throughout last year, the team was led by senior captain Sukhi Kaur. This year, Coach Romeo is taking over as head coach. Although it is his first year as head coach, his incredible high school career and experience in the sport will help him meet the criteria for the job and lead the team to a successful season. When interviewed, Coach Romeo said, " We plan on enhancing the skill level of each of the younger girls to get them ready for the varsity level." Romeo is looking to rebuild the team after having lost four out of five starters. His expectations are set high for the girls regardless of their loss of starters. The only remaining starter, senior captain and guard Liliann Vizcaino, hopes to lead this young team to victory. When interviewed, she stated, "I feel it is my job to be a role model, a captain, and a good example of a hard working student-athlete on and off the court for my team. This is a rebuilding season for us, but I am confident that we will compete with any team we face this season." Having varsity experience from last year, Junior Lila Reginald will also play a leading role this season. The team also looks to freshman point guard Aliyah Williams to light up the court this season. As coach Romeo states, "She has the ability to step right in and contribute tremendously." The girls are looking to develop not only as individuals, but also collaboratively as a team. With the right chemistry and tenacity on the court, the girls are bound to bring home some wins.
Wrestling
Although the cold winter is approaching, this year's wrestling team plans on staying hot by winning plenty of matches. Led by Senior Captains Michael Dios (132 lbs), Cole Villacis (145 lbs), Steven Villa (160 lbs), and Junior Captain Chris Caban (113 lbs), the team is looking to compete for the League Championship. Senior Captain Mike Dios says, "We have a lot of new kids, but overall, I think the lineup is looking pretty good." This year's lineup will consistent of multiple upcoming players. "Issic Gomez (freshman), Sean Tocci (freshman), Raul Guerra (sophomore), Daniel Scarcella (sophomore), Brandon Fabre (junior), and Andrew "Uncle" Castenada (junior) are all expected to play a huge role in the Varsity lineup this season," says Head Coach Maggio. Maggio's coaching career began in 2003 at Ridgefield Park High School. He then took over the Lodi Wrestling program in 2010. During his past five seasons, the Wrestling team won back to back League titles. In 2014, Coach Maggio was also named District IV Head Coach of the Year. Caban, in regards to Coach Maggio, says, "I really look up to him as a coach. He is constantly pushing us to be better not only on the mat but as a person." After returning as a two time District IV Champ, Caban is working toward his third District Championship. Chris was also a Bergen County Freshman Champion as well as the Most Outstanding Wrestler of that tournament. Along with the rest of the team, Caban is looking to qualify for the State Championship in Atlantic City in March. Each wrestler is looking to grow as an individual and continue to improve as the season goes on. 
Competition Cheer
Although football season might be over, the Lodi High School cheerleaders are still working hard to put on more than a half time show for their upcoming competition season. One month of practice may not seem like a lot for a team of twenty-one girls, however, their hard work and dedication always helps them pull through and put on a show on the mat. Senior Captain Desiree Bermudez says, "I'm really looking forward to bonding with my team for one last time this season. Without a bond in this sport, a team cannot be successful; we do everything together whether it be a sleepover or a hospital visit." Although they lost a few key people last year, they also gained a few this year. Freshmen Caterina Messina and Chelsie Bartoloni have really stepped up to the high school level. "Caterina shows great strength in her stunts and has really proved herself as a freshman," says Captain Bermudez. She then adds, "Chelsie's strength in tumbling has her on an upperclassmen level, and I'm eager to see how she improves throughout the season." All around, each girl brings her own style and flare to the team. The girls are looking to rise above the rest this season and bring home as many trophies as they can.
About the Contributor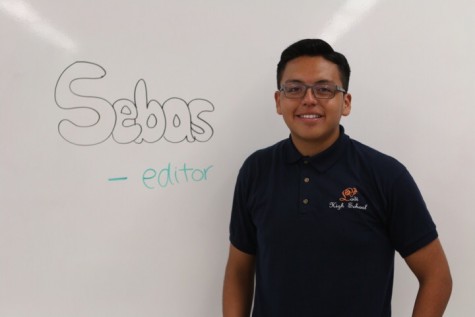 Sebastian Esquivel, Editor
Q: How would you describe yourself in five words?
A: I'd say I am tenacious, diligent, compassionate, honest, and responsible.

Q: What are you plans...