Week Four and More!
With a final score of 35-14, the Varsity football team came out with their first win of the season against Elmwood Park on Saturday Oct. 3. Steven Villa completed five out of six passes for 115 yards for two touchdowns and also rushed 18 carries for 201 yards to score two touchdowns. Junior Dayshawn Cunningham, who was recently converted to a running back, also carried 13 times for 152 yards.
Not only did the football team come out with their first win of the season, but they also won what is referred to as the Mayor's Trophy. "The Mayor's Trophy has been a tradition with Elmwood Park since the 1960's," says Head Coach Tirico. "It feels good to bring it back home…we put it up in the trophy case and that team's year is in there forever." This tradition was started by the mayor's of each town back in the 1960's where the winner of the game would receive the trophy for that year and get their year engraved on the trophy itself. Back then, the games were played on Thanksgiving Day, but when those came to an end, the rivalry tradition remained in tact. Winning the trophy was not the only success of the day; freshman linebacker, Sean Tocci, got his first and impressive Varsity start against Elmwood Park. Tocci told The Rampage, "Sure, I was nervous at first but after the first play, I went all the way. I felt like I was supposed to be out there. It felt great to come out with the win with my team." Tocci then joked, "The only thing was, I wanted to take a picture with the trophy but Jaloudi was kind of hogging it." Senior Michael Pantano says, "It was an amazing feeling; not only because we got the trophy back but because it was our first win of the season. It gave us a lot of confidence and pride to work harder in practice and motivated us to make a comeback." Hopefully, this win in the team's back pocket will motivate them against Manchester Regional and Palisades Park in the upcoming weeks.
About the Contributor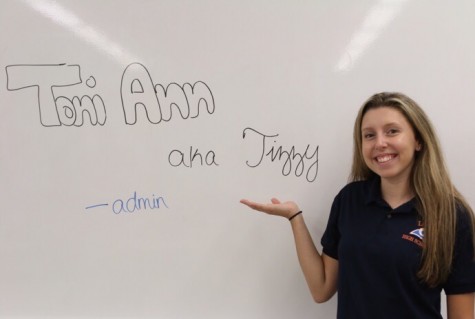 ToniAnn Pierce, admin
Q: What are your plans for after high school?
A: After high school, I plan on going to college to major in business. Hopefully, I get accepted to Clemson...