In the Dig of Things
With a first set score of 26-24 and a second set score of 25-8, the Varsity Girls' Volleyball team came out with a win for their first match of the season. Senior, Stephanie Oyuela had seven assists and senior captain, Caitlin Hessberger, had six service points. Junior captain, Lila Reginald, had nine kills to get the win over the Manchester Falcons on Thursday, Sept. 10. This season the Lady Rams will be lead by a pair of captains who have a strong bond on and off the court. Not only are Caitlin Hessberger and Lila Reginald captains but they are also cousins. "On the court, Hessy and I are like one team; we fight and argue but without her, I probably wouldn't be the player I am today. We can always work together and I feel like when we are together, we are unstoppable," says Reginald. Coach Getrajdman, who is on her second year of coaching Lodi volleyball, says, "Captains are chosen based on how they earn it. It's a mixture of team spirit, communication, attitude, effort and a certain level of talent." She then continues by saying, "Lila talks and throws herself all over the court; she's always the loudest on the court. Caitlin is one of our most talented players. She never has an off-game; she's awesome."
With tough competition this year, the Lady Rams are looking to win as many games as possible. "Our biggest games will be Garfield, Hackensack and Elmwood Park," says Coach G. "Lodi stands out because we all have a really good relationship. All the girls are really close and there's no drama." The girls will continue their season Friday, Sept. 18 at Mary Help of Christians. Be sure to checkout the interview with Senior Captain Caitlin Hessberger for her thoughts of the upcoming season. 
About the Contributor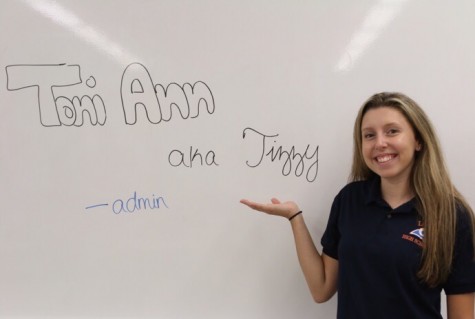 ToniAnn Pierce, admin
Q: What are your plans for after high school?
A: After high school, I plan on going to college to major in business. Hopefully, I get accepted to Clemson...