A Celebration of Diversity
Each year, Ms. Vado hosts the International Festival where students of all backgrounds can join together and celebrate the beauty of diversity. Due to the circumstances of this school year, there was no way to host this event in person; therefore, Ms. Vado had to get creative! Her students created slide shows presentations in which they were sure to include cultural dishes and drinks and fun facts about their representing country. This is such an important annual festival for both the teachers and students at Lodi High School. When asked what this event means to her, Ms. Vado shared, "Celebrating the International Festival gives me great pride and joy. Each year I have new students from different countries and it is a beautiful thing to see my veteran students help our newcomers assimilate and feel welcomed! They know it's not easy being 'the new kid' let alone having to learn a new language, develop new friendships, and most importantly leave behind their native home and life they once had." It is important to celebrate our differences and although it is not always easy, it sure makes each and every one of us an individual.  Ms. Vado's International Festival is a reminder of just that.
Ms. Vado and her students have committed themselves each year to sharing and educating the faculty and students of LHS: "The International Festival allows my students to proudly showcase their native country. At our festival in years past, you would sample some exquisite cuisine from countries such as the Dominican Republic, Colombia, Guatemala, El Salvador, Ecuador, Peru, Greece, Albania, Syria, and France. In addition, there is  live entertainment by our talented singer and songwriter, Keven Nunez from the Dominican Republic. Attending our festival is an experience that leaves you wanting more as well as an appreciation for how hard my students work to make this event a success. To say I am proud is an understatement! I am honored to get to be a part of their educational journey at LHS." The students created presentations that encourage education, acceptance, understanding, and, most importantly, food! Their work is a celebration of all of our diversity!
While we can't be together this year, the message of the International Festival is still just as important as ever. When asked about the significance of this event, Ms. Vado said, "I feel it's important for us to celebrate our differences as well as our common interests. By doing so we foster open-mindedness and respect for other cultures. Most importantly, it encourages unity; this year more than ever we have learned the true meaning of 'We're all in this together.' We have been faced with challenges that have united us more than ever. Lodi has come together as a community and a family. We all work better when we work together." This celebration is an amazing event to learn while having fun! It is extremely important to create an environment where each and every individual feels heard and welcomed and that is exactly what Ms. Vado did. To see clips from this year's revised International Festival, check out the slide show below!
About the Contributor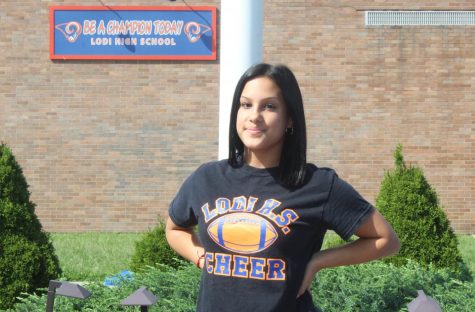 Angela Laureano, Writer
Q: What is your biggest pet peeve when becoming acquainted with new people?

A: People who are very openly judgmental and just start criticizing you...