How to Give Back this Holiday Season
This time of year is sentimental and is especially known for giving and receiving. 2020 hasn't quite been the same as previous years but there are still some things you can do to turn it around. Giving back is a small way to help the people around you. Not sure where to start? Don't worry! The Rampage has you covered!
Hosting a Yard Sale
How? What better thing to do in quarantine then to go through old things and sell them. You can have a small yard sale and donate the proceeds to your favorite charity.
Why? Getting rid of your junk and helping out others is a great sense of gratitude. It helps both you and others while fulfilling the holiday spirit.
Helping out Friends and Family
How? Ask your family and close friends (the ones with whom you have been quarantining, of course) if they need help with small or large tasks. Some examples could be, help wrap gifts, decorate for the holidays, help clean up, or help them study.
Why? Giving back is more then donating money; it's about giving your time and dedication to others. It is a super simple way to help others and give back to your community.
Small Acts of Kindness
How? Any small act of kindness can cheer someone up. Compliment as many people as you can; leave your change in the vending machine for someone to find; pick up a piece of trash you see; let someone ahead of you in line.
Why? Small acts can have a big impact! You can change someone's day for the better and it won't cost you anything!
Donating
How? Sign up on gofundme.com and search the site to find a cause you are passionate about and willing to support. You can donate money or help to promote the cause by posting on social media.
Why? If you want to help out many causes you support by donating money this is the best choice. You can even directly see your impact and how far they are from reaching their goal.
Supporting a Small Businesses
How? There are many different ways you could help a small business near you. Whether it is a local bakery or family owned pizza shop or supporting your friends on their small business endeavors, you can easily show your support. Shop at these businesses or advertise for them on social media!
Why? To own a small business is not easy. These business owners took their passions and turned into something unique and special. Unfortunately, they are up against big chains and corporations. Therefore, supporting someone who is starting from the ground up is a great way to support the people and the community around you.
Helping Wildlife
How? By visiting Awf.org, you can learn about all of the amazing animals they are trying to save in Africa. You can read all about how you can donate to help them protect their most beloved wildlife.
Why? There are many endangered animals all over the world whose lives are constantly at risk. In Africa, their most endangered and sought after wildlife needs to be protected.
Helping Local Animal Shelters
How? By visiting Bergen County Animal Shelter and Adoption Center's website you can read all about the organization and the kinds of supplies they need. You can view their amazon wish list as well as view a list of donations you could provide to them directly
Why? Local pet centers need help to continue to be a safe environment for all of the animals that arrive. We can help with that!
Donating to a Food Drive
How?  You can visit Center for Food Actions's website (https://cfanj.org/donate-food/) to read about all of the donation locations as well as the types of foods they accept and other supplies they need.
Why? Many people this holiday season are less fortunate and need some help. We can help by donating small portions of supplies and if more people do the same, they will have a large selection of donations. This is a great way to get involved and help the community and people who are in need.
Donating to Shelters
How? There are all different types of shelters. To help those who are homeless, you can visit theHoboken Shelter (https://hobokenshelter.org/donating-to-the-shelter/) or research other shelters in the area and read about how and what you can donate to them. To help women and children in need, you can Visit Oasis (https://oasisnj.org/) and you can donate money or even sponsor a lunch.
Why? These are great organization to help people get back on their feet and why not help others who are in need?
About the Contributor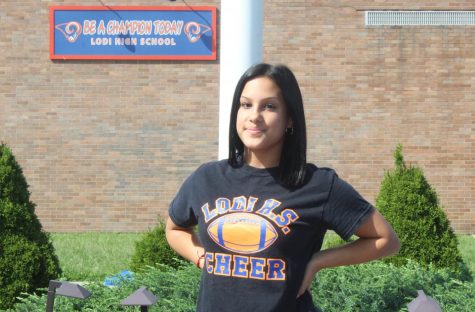 Angela Laureano, Writer
Q: What is your biggest pet peeve when becoming acquainted with new people?

A: People who are very openly judgmental and just start criticizing you...