Financing Your Future
For seniors, college is approaching faster than it may seem. However, thanks to guidance and their interns they have helped make this rough path a little smoother. FAFSA Day was first introduced three years go by Mrs. Orosz and this year the interns helped immensely during the event. With the dedication of the Guidance Department, FAFSA Day became a reality and helped students/parents with one of the most challenging aspects of college. Many colleges also joined in to help each student and parent through the process. The colleges who attended included Felician, Montclair, Ramapo, WPU, HESAA, Centenary, Stevens, and NJCU.
Thinking about the finances for college can be overwhelming but having that helping hand can be beneficial for both the parents and students involved. In an interview with Ms. Morales, guidance intern, she shared that not many schools are as involved as Lodi when it comes to helping the students prepare for college; she takes pride in being part of a school that is so unified and helpful. Guidance was thrilled with the turnout of over 100 students and 70-80 parents. They were also very surprised to see how many juniors attempted signing up for the event. However, if you missed this event, do not worry! Guidance has assured that any student could always reach out to financial aid offices and they can help you fill out the FAFSA.
The Guidance Department also went the extra mile by having an EOF/EOP program event day. College is one of the most expensive and nerve wracking steps into adulthood.  Thankfully, to help with the stress, the EOF/EOP program is available for particular students. For many that don't know, EOF stands for Educational Opportunity Fund and EOP stands for Educational Opportunity Program. To help the graduating class of seniors, the guidance assistants, Desiree Morales and Linda Wang, were responsible for setting up a day in which schools, such as Caldwell University, NJIT, Montclair, Felician College, Saint Peter's, Steven's University, and Ramapo, came in to talk about the benefits of the EOF program.    Just like FAFSA, this program will give you a grant and will help you pay off many of your classes and school fees, such as books, which could become costly.  However, unlike FASFA, in order to be eligible for EOF/EOP, a student must have free or reduced lunch.  On top of that, you must be a first-generation student, meaning neither of your parents can have a bachelor or an associate's degree.
This program is offered as first come first serve.  Since the program is so popular throughout the state, they only accept the first few applicants who meet the proper criteria, such as having a GPA higher than a 2.7. Once you've been accepted, you'll be required to attend a mandatory  summer camp, which would require taking courses over the summer.  If you do not pass these courses, your acceptance will be withdrawn.  The EOF/EOP is very beneficial due to the fact that it is extra money added on to your financial aid.  For that exact reason, the Guidance Department has already reached out to these schools once again to come during the spring to inform the juniors of their benefits.  Being informed and making smart decisions will truly determine how you enjoy your college years. 
About the Contributor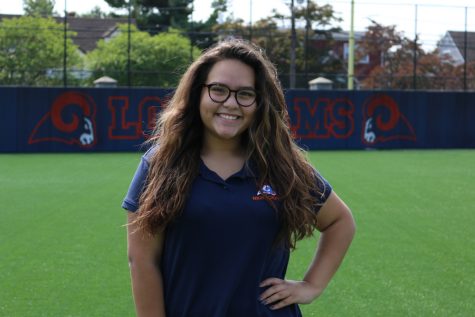 Keyla Crespo, Writer
Q: What are some things you like to do in your spare time when you are not in school?

A:  Keyla, like almost every other student, spends her spare...