Alex Rodriguez: The Freshman A.Rod
Alex Rodriguez is a Dominican-American former base- wait just a second, wrong A. Rod. Fourteen year old Alexandra Rodriguez is a freshman girl who has, fortunately, become apart of the Lodi High School varsity softball team. Starting from Farm league, Rodriguez has been playing softball nonstop for about seven years now. "As I entered Lodi High, I knew that all I wanted was to be on the varsity cheer leading team and the varsity softball team, because those are two sports that I love so much," expressed Rodriguez in an interview with the Rampage.
Rodriguez made sure to do her best to stand out during try outs because being on varsity was not simply an option for her, it was the goal. On and off the field, at tryouts and even at home, Rodriguez worked hard to keep up with all of the older girls. As a freshman on varsity, Rodriguez has frequently been asked how she did it, "My answer is Bryanna Bigica. I have always known Bryanna on a first name basis and I always thought she was such a cool person and an amazing softball player. As I started to become closer with Bryanna, we began throwing together and practicing with each other more and more, and that is what made me a better player."
Rodriguez has the opportunity to play on both varsity and junior varsity this year. On varsity, Rodriguez is a courtesy runner and on junior varsity she is a center and left fielder. In my discussion with Rodriguez, she explained the difference between her two teams: "Playing on varsity is much more competitive and nerve wracking. Everything has to be done perfectly and precisely, which means things tend to get stressful very easily. In my opinion, JV is more fun because I think of it like a practice for varsity." Overall, Rodriguez feels that she is lucky to play on both teams with amazing girls.
Rodriguez's role model on varsity is the same girl who helped her make the team, senior pitcher, Bryanna Bigica. Rodriguez has stated that she looks up to Bigica like a big sister and hopes to be just like her as a senior. Bigica gave the Rampage a more in depth look of who Rodriguez really is, on and off the field:
"As a person, Alex is very trustworthy, strong, honest, and outgoing. She is my best friend and I could go to her for literally anything. As a player, she is always working hard to become better. No matter if it's on the base path or in the outfield, as long as she could help she is satisfied. She is honestly the true definition of a team player."
Rodriguez and Bigica's friendship is truly inspiring and heartwarming. Be sure to go and check out the rest of the players' chemistry by supporting the Lady Rams at their next home game, Wednesday, May 10, at Kennedy Park against Elmwood Park!
About the Contributor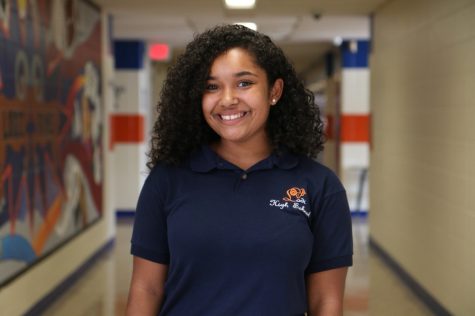 Akyra Rice, Author
Q: Now that we're back to school what did you do over the summer?  A: Although Akyra said that she mostly worked over the summer, she  also found time...