The Sizzlin' Softball Team
With the start of a brand new season, the Lodi varsity softball players have been working their butts off practicing six days a week, in order to ensure themselves of a successful season. In a previous interview with the Rampage, senior Captain Bryanna Bigica explained her feelings about the upcoming season and expressed that she holds high hopes that this year is going to be a good one. Well as promised, the Lady Rams started this years season off the right way. On Wed. April 5, Lodi High school's varsity softball team defeated Pompton Lakes with a score of  12-0.
Although the Lady Rams played an awesome game, the senior players definitely cherished this win the most because that was the last first game they would play of their high school career. For the first game of the season, the Rampage decided to get an exclusive interview with Captain Kayla Oakley to learn more about her passion for softball.
Question #1: As a senior, how do you feel playing in your last first game?
A: I'm actually devastated that this was my last first game with my Lodi girls. Softball will definitely be something I miss when I graduate.
Question #2: Due to the great success of last year's season, what have you done as a player to improve for this upcoming season?
A: Having a terrific season last year, the only thing you can do as a player is try to better yourself in any way possible. There's always something that needs the slightest adjustment, and sometimes that adjustment wins state championships.
Question #3: What type of leadership skills have you acquired over the years that would benefit the younger players for the future seasons to come?
A: I look up to my elders in sports. I always admired the way the captains/seniors play and that's how I want freshman and underclassmen to feel about me.
Question #4: With this being your first win, what will you take away from today's game to help you and your team stay consistent this year?
A: We are a very skilled offensive and defensive team, and starting off the season with a win is always a good thing. We are now 4-0 in our league with a huge game against Rutherford coming up and we just have to prove that we're the better team.
Question #5: As a team, what are some ways you practiced to prepare for your first game?

A: As a team we do a lot of infield/outfield work because as Coach Terhune says, "Defense wins games."
Question #6: With the success from last year and the preseason, do you think this season will be a great way to end your senior year?
A: I really hope we can get back to where we were last year and walk out with a victory because that would be such an amazing feeling, but we can't just assume we will make it back and that's why we have to work just as hard to get into the championship game.
The Lady Rams definitely have a great road to success ahead of them and there's no doubt that each and every player will strive to the best of their ability in order to make it to the state championship. As we wish the Lady Rams good luck throughout their season, be sure to stop by Kennedy Park at 4:00, Thursday, April 13, to cheer them on as they go against Glen Rock.
About the Contributor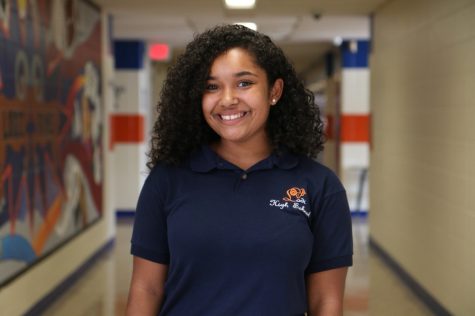 Akyra Rice, Author
Q: Now that we're back to school what did you do over the summer?  A: Although Akyra said that she mostly worked over the summer, she  also found time...