Girls' Basketball: Rams vs. Boilermakers, Take Two
On Thursday, Feb. 16, the Lady Rams went head-to-head with their rivals for one last time this season. With a score of 49-36, the Lady Rams were defeated by the Garfield Boilermakers once again. During the last Lodi versus Garfield girls' basketball game, the score was 47-37. While they gave it their all the second time around, Garfield came out victorious.
Senior, Lila Reginald scored a total of 16 points with five two-pointers, six free throws, 10 rebounds, one assist, and four steals. Sophomore, Aliyah Williams scored a total of 11 points with three two-pointers, one three-pointer, two free throws, five rebounds, three assists, and four steals. Senior, Kim Cornel scored a total of three points with one two-pointer, one free throw, four rebounds, two blocks, and one steal. Sophomore, Daysia Bubenik shined bright this game and scored two three-pointers, adding six pints to the score board.
Although the Lady Rams did not defeat their rivals, as planned, they still managed to play the best that they could and they did not give up. "Yes, we did not win like we wanted to, but we still tried our best and did not let them walk all over us. We managed to keep the score around the same as it was last game, which in my eyes shows that we have learned how to work as a team. The Garfield girls could've came into the game and completely destroyed us, but instead we kept our heads held high and made sure to play to the best of our abilities," stated, senior, Jasmine Castro after being asked to explain her feelings after the game.
The Lady Rams have had an eventful season so far and it will only get better from here! Be sure to come and support the Lodi Girl's Basketball game home against Fortlee on Monday, Feb. 20, at 4:00!
About the Contributor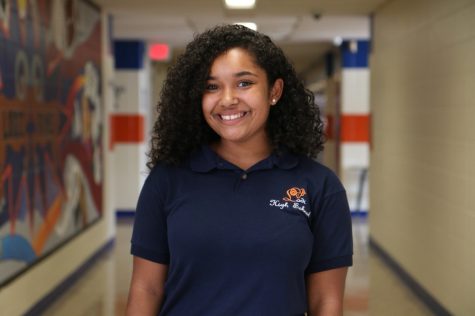 Akyra Rice, Author
Q: Now that we're back to school what did you do over the summer?  A: Although Akyra said that she mostly worked over the summer, she  also found time...