The Lady Rams vs. the Hawthorne Bears
On Thursday, Feb. 3, the Lady Rams took on the Hawthorne Bears. Unfortunately, with a score of 45-29, the Lady Rams were defeated. It began with the Hawthorne Bears winning the tip off, however, Lodi placed the first two points on the score board. Lodi recovered the ball which lead to an assist from, sophomore, Aliyah Williams to, senior, Lila Reginald. The Hawthorne Bears finished the first period off with the score of 10-4.
Although the Lady Rams were down, they did not give up. Throughout the
second period, the Lady Rams made sure to keep their guard up and their defense strong. The Hawthorne Bears scored 16 more points that period and the Lady Rams scored six. The score at half time was 10-26.
Throughout the game Reginald t scored 15 points with seven two-pointers, eight rebounds, one assist, and two steals. Williams played her part as well and added eight points to the score board with four two-pointers, 10 rebounds, five assists, and five steals. Sophomore, Mary Breny shined through this game and added six points to the score board with 3 two-pointers, four rebounds, and four blocks. Players Daysia Bubenik and Sara Papraniku did not score, but made sure to help on defense. Bubenik received two rebounds and Papraniku received three rebounds and one block.
Although the Lady Rams did not defeat the Hawthorne Bears, Breny is still proud of her team. "I was really nervous because I knew that it was going to be a hard game for us, especially because of how tall and experienced one of the girls on their team is. Although it wasn't easy, I'm really proud of my team because we stayed in there and fought until the very end." The Lady Rams were defeated previously this year against the Hawthorne Bears, losing by almost 40 points. This time is was only 16 points, which is a major improvement. The Rams might not have won this game, but Breny believes that if they continue to work hard and encourage one another, they will definitely come out on top next game! Be sure to come out and support the Lady Rams away at Manchester tonight, Friday, Feb. 3.
About the Contributor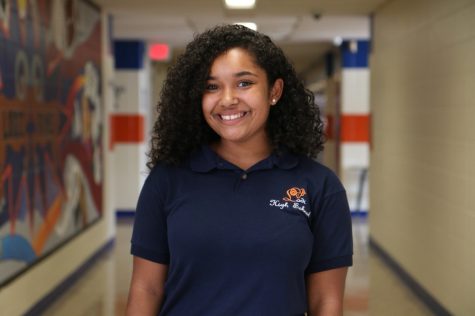 Akyra Rice, Author
Q: Now that we're back to school what did you do over the summer?  A: Although Akyra said that she mostly worked over the summer, she  also found time...