Lady Rams Take Over the Holiday Tournament
On the road to success, there are always obstacles in the way. On Monday, Dec. 26, the Lodi Girl's basketball team faced their first obstacle. Annually, after Christmas, both of Lodi's basketball teams participate in an In-Season Holiday Tournament. This is a two-day tournament where teams with the best record compete to prove that they really are the best. Lodi's first rival was Wallington. With a score of 51-32, the Lady Rams dominated the first part of the tournament. Sophomore, Aliyah Williams scored the most points with a total of 20. Senior, Lila Reginald scored 10 points and had the most amount of rebounds with a total of eight. Junior Sara Papraniku added an additional nine points onto the score board and had a total of three steals. After the victory against Wallington, Senior, Lila Reginald stated, "This game was a little nerve-racking, due to the fact that the week before we lost two really big games against Pontoon and Manchester. Being that the tournament is right after the holidays, I was afraid that everyone would have lost track of mindset because we were now on break. But stepping onto the court, we gave it our all and played the best that each one of us could."
Next stop on the Lady Ram's road to success was a victory against Saddle Brook. This game, however, was much more difficult than the previous one because the girls were now down a few players. "I knew I had to prove myself to Coach Romeo that game, especially in the finals going against Saddle Brook because of their top player, who I had to defend. I made sure to shut her down, just like my coach said," exclaimed Lila, proudly after their big win. Scoring the most points again, Aliyah Williams added a total of 19 points to the score board. Lila Reginald, as well, had nine points and a total of seven rebounds. Sophomore, Daysia Bubenik shot an amazing three-pointer and had a total of three steals. The Lady Ram's defeated Saddle Brook with a score of 31-28 and took home the trophy! "After the tournament, when the team was announced as the winners, I was extremely ecstatic. We won the trophy two years ago, but winning it this year for my senior year really topped it off. Being that we are a weaker team this year, I believe our bond is what gave us that power and self-will to strive to get that huge W," states Lila loudly and proudly. The Lady Rams have successfully defeated their competition and proved that they are the best. With their drive and determination, there is definitely no stopping them this year!
About the Contributor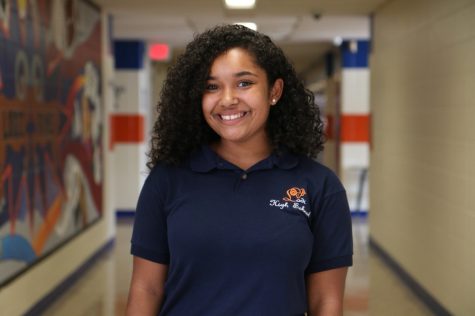 Akyra Rice, Author
Q: Now that we're back to school what did you do over the summer?  A: Although Akyra said that she mostly worked over the summer, she  also found time...