Saying Goodbye to Two Legends
"The hardest part of saying goodbye is remembering what was." On Friday, Nov. 4, the Lodi High School cheerleaders had to say goodbye to one of the most important aspects of their team –their head coach Danielle Palasti. Danielle has been coaching in the town of Lodi for about 17 years now. In 1999, Palasti decided to volunteer as a cheerleading coach for Lodi Recreation. Six years later, she then decided to pursue her coaching career at Lodi High School. Since then, Palasti has benefited the growth of LHS cheerleading with her skilled technique and great advice. Unfortunately, all good things must come to an end. As a huge thank you, the LHS cheerleaders and their assistant coach, Sara Scimeca, gathered a few of the alumni cheerleaders and asked them to come to the last football game to say goodbye. At the game, Coach Palasti was greeted with a huge card and a plaque to symbolize her amazing 17 years of coaching.
Along with the LHS cheerleading team, the volleyball players had to say goodbye to someone special, as well. Towards the end of their annual volleyball dinner, Coach Shibilski announced that it would be his last year coaching volleyball. Phil Shibilski is a coach for boys basketball at TJMS and varsity boys tennis, as well as LHS volleyball. While speaking to Nikki Salvatore, a senior volleyball player, about Coach Shibilski's resignation, she had nothing but good things to say. "Even though we struggled with our record and we could've had a better year, he always stayed positive and always encouraged us. Regardless of our record, he always told us to keep our heads held high and I feel like that's a quality he shares as both a coach and as a person. He just wants us to be positive," says Nikki Salvatore.
Danielle Palasti and Phil Shibilski are two great coaches who will definitely be missed.
About the Contributor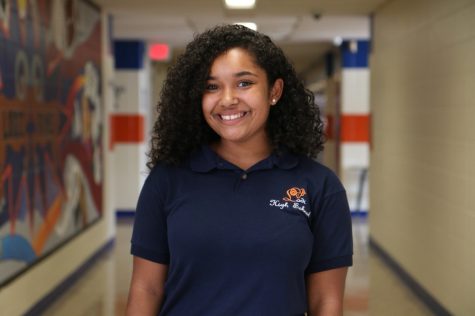 Akyra Rice, Author
Q: Now that we're back to school what did you do over the summer?  A: Although Akyra said that she mostly worked over the summer, she  also found time...