Achieve and Succeed: NHS
The National Honor Society is a prestigious club that recognizes students who strive for success and devote their time to helping the community.  The officers of NHS play an extremely significant role. Aside from striving for success and volunteering, each officer has certain responsibilities in order to maintain their honorable position. This year the club held their elections in Sept. 28 and the results were announced the following day. The 2016-2017 NHS officers include:
President: Leyla Durmus
Vice President: Hasmin Llamoca
Corresponding Secretary: Lillian Maltese
Recording Secretary: Daniela Cavallaro
Treasurer: Kimberly Coronel
The Rampage asked the officers how it feels to have a leading role in an honorable organization and what their responsibilities include.
"Being the president feels so surreal. As I look back at the previous presidents, I find it hard to believe that I am now in their shoes," President Durmus expresses. "I've always seen myself as someone who can lead efficiently and I wanted to showcase that by taking part in a very prestigious organization." As the president, Leyla will be in charge of planning the agenda for every meeting. A major part of her position includes making a connection between the members. Leyla declares, "I really do believe that in order to excel at something, everyone has to be on the same page." President Durmus has no doubt that this'll be a successful and memorable year for NHS!
Hasmin Llamoca feels beyond honored to have received the important position of vice president. Hasmin states, "I actually thought I wouldn't have been a good enough candidate, but I convinced myself otherwise and decided to run. I was definitely surprised when I found out I won." Hasmin explains that her role entails assisting the president in meetings and taking over when the president is not there. "My biggest role," Hasmin proclaims, "is setting a respectable example for my peers." Hasmin is excited to have a remarkable year for NHS!
Lilian Maltese, the corresponding secretary, is eager to conduct events that the NHS hosts. She exclaims, "It is more than an honor to be the corresponding secretary of NHS! Ever since I stepped foot in LHS, I strived to have such an important role in my school. I consider myself to be very organized and dedicated, and I love to be involved!" Aside from helping the president, Lillian is responsible for communicating to the members of NHS of all the upcoming event. Lillian is looking forward to a successful year for NHS!
"It feels great to be the recording secretary of NHS! I am more than happy to work together with all the members if this club at an executive level," Daniela Cavallaro expresses. Daniela was inspired to run for this position at her induction ceremony, last year. She states, "I ran for recording secretary because I wanted to work together with all the diverse leaders in NHS. Also, this position represents that service and volunteering has become an important part of my life." Daniela is ecstatic to have an honorable position and can't wait to work hand in hand with everyone to make this year memorable!
"I feel amazing that I won the position for treasurer!" Kimberly exclaims. "It gives me a chance to do great things for NHS and to express my voice on certain matters. I plan to work hard along with the other officers and members to raise money for scholarships and charities." Kimberly is certain that she can make this year unforgettable, not only for her, but for everyone in NHS!
Mr. Tarleton and Mrs. Neshan, the advisors of this distinguishable club, are excited to see what the officers have in store for this year! Mrs. Neshan mentions, "The officers will definitely have a lot of work to do but I, along with Mr. Tarleton, know that each of them is ready and willing to take on the challenge." The advisors as well as the officers of NHS look forward to implementing new ideas and creating memories along the way!
About the Contributor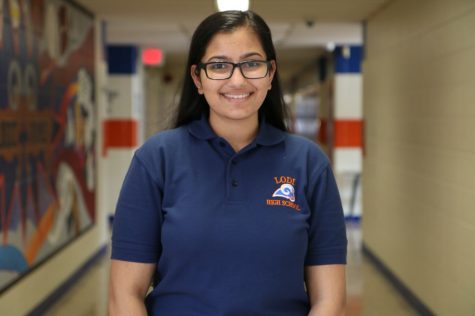 Shanza Arif, Editor
Q:What is your biggest aspiration in life? A: Shanza's biggest aspiration in life is to achieve the best forms of recognition and lead a truly successful...