Acing the SAT/ACT
Juniors, the time is finally here; you can now start your process of college preparation. A great way to start this journey is to begin with taking your standardized testing. There are two standardized tests that colleges use to decide whether or not you will be admitted into their school. The SAT and ACT are both factors that are used to compare you to other applicants. However, keep in mind that the SAT/ACT score is just one factor that helps determine your admittance.
Deciding Between the SAT or ACT:
Choose the standardized test that fits you best

: Some of your top colleges may prefer the ACT over the SAT. Research those colleges to see what test(s) they accept. Some colleges may accept both scores, while other colleges may accept one over the other. 

Know what you are capable of

: The SAT is based off of reasoning ability, while the ACT is based off of  knowledge.  The SAT has more creative ways of presenting the problem. The ACT tends to be more straightforward. The ACT includes a science section so if you are strong in science, the ACT may be the more beneficial test for you. 

Scientific knowledge:

The ACT includes a science section. If you have taken biology, earth sciences, or physics, this test may be more beneficial for you. This section includes graphs and scientific hypotheses.

Your time management: SAT: 3 hours (additional 50 minutes if you choose to write the essay); ACT: 2 hours, 55 minutes (3 hours, 35 minutes if you choose to write the essay). The SAT is longer and there is less time to answer each question. If you work well under pressure, the SAT may be better for you.
After choosing which test may be beneficial for you, you may want to start preparing. Each test has a variety of tips that will help make your test-taking experience a success. Below, you will find a number of helpful tips that you may use for either test.
Never erase or cross-out mistakes:

Since the test is timed, it is best that you do not erase any mistakes because it will waste time.
Do not be neat:

Since it is your own test booklet, you can do whatever you want to it. If you decide to write some helpful hints or cross out useless information, great!
Underline keywords:

If underlining important information is beneficial for you, do it for the test! It may help you focus on what question is being asked.
Doing the problems in each order is not required:

There is no rule that states that you have to complete the questions in chronological order. As long as you work on the right section, you can work in any order that you choose.
Always guess on multiple choice answers:

Since the tests have been updated, the new rule is that you will not be penalized for incorrect answers. If you run out of time –so guess!
Bring more supplies than you need:

You always want to be prepared to take a standardized test. Always bring more than you think you need.
Now that you know some helpful tips about both tests and what to expect, you should know what materials you need for test day. Below, you will find a list of materials that you may and not bring to your testing location.
Must Bring:
Your Admission Ticket (If you do not bring in your admission ticket and/or your photo identification, you may not be permitted to enter testing locations.)

Multiple No. 2 Pencils and soft erasers (Bring at least 2)

Photo Identification

An Acceptable Calculator

A Watch (Without an audible alarm)

A bag or backpack

A drink or snack during the break
Must Not Bring:
You are allowed to bring cell phones and certain electronic devices with you, but you should NOT bring the following devices into the test center.
Cell Phones

Personal Computing Devices

Separate Timers

Cameras or photographic equipment

Any device capable of recording audio
Below, you will find a list of each test date for both the SAT and the ACT.
SAT:
ACT:
Juniors, the information listed will help make your test-taking experience less stressful. Make sure to get a good night of sleep and to remain calm throughout the test. Try your best and remember these tips the day of! If you have any questions or would like to review, see Mr. Pearlman in Room 138 in the mornings. Best of luck on the SAT/ACT! You will ace it!
About the Contributor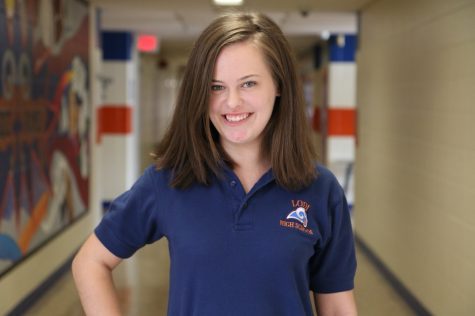 Adrianna Bakreski, Author
Q: What are you most excited for this school year? A: Adrianna is most excited for this year's production of the drama club. She is also ecstatic about...