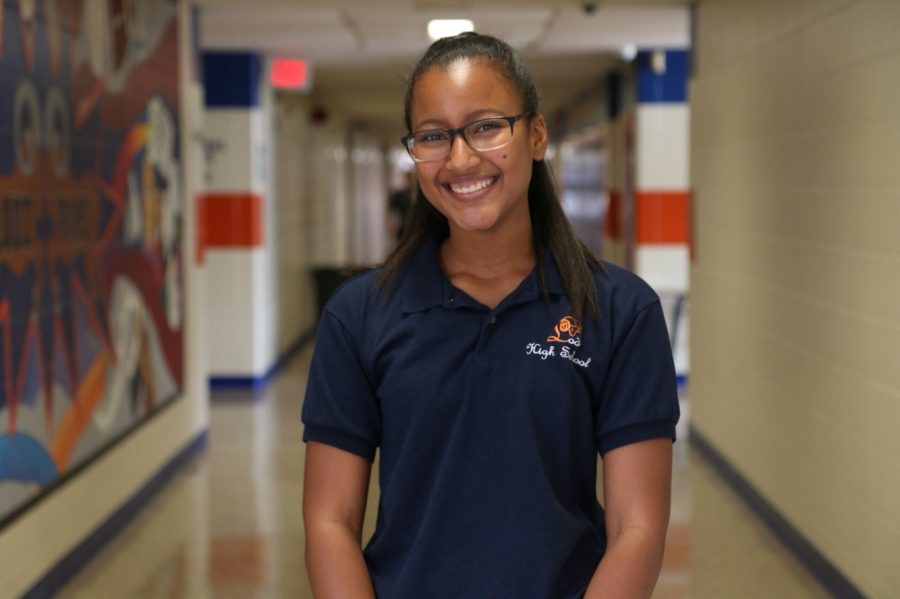 Q:Are you in any clubs and if so, which one is your favorite?  
A: Paola is in numerous clubs but her two favorite are FBLA and Interact club. She enjoys being in Interact club because it allows her to pursue her passion of helping others and she enjoys being a member of FBLA because she's able to get a sneak peek into the business world.
Q:What is your dream job?  
A: If she could have any job in the world, she would either choose to be Beyonce or she would be the President of the United States.
Q:What are some of your favorite hobbies?  
A: Paola's favorite hobby is writing poetry. She mainly writes free verse, a type of poetry in which the author chooses their own unique writing style. Paola also enjoys listening to all different genres of music.
Q:Do you have any plans on what you want to do in college?  
A: Paola has her mind set on double majoring in economics and political science. Her ultimate goal is to be a social entrepreneur who travels the world participating in several philanthropic activities.
Interviewed by Shanza Arif
Paola De La Cruz, Administrator
Jun 20, 2017

Bright Seniors, Brighter Futures

(Story)

Jun 20, 2017

Love of a Teacher

(Story)

May 19, 2017

60 Q's: Keeping Up with Canni

(Story)

May 19, 2017

60 Q's: What's Happening with Hipkins

(Story)

May 05, 2017

Survival of the Fittest

(Story)

May 05, 2017

Tirico Takes on Chapter Two

(Story)

Apr 13, 2017

60 Q's: Talking with Tarleton

(Story)

Apr 13, 2017

Guess the Teacher: English Department

(Story)

Apr 13, 2017

Rampage Riddlez with the English department

(Story)

Mar 30, 2017

Are You Smarter Than a Science Teacher?

(Story)

Mar 30, 2017

A Scientist in the Making

(Story)

Mar 30, 2017

Guess the Teacher: Science Department

(Story)

Mar 09, 2017

Guess the Teacher: Math Department

(Story)

Mar 09, 2017

Mathematician Madness

(Story)

Feb 14, 2017

14 Days of Love: Day 14

(Story)

Feb 13, 2017

14 Days of Love: Day 13

(Story)

Feb 12, 2017

14 Days of Love: Day 12

(Story)

Feb 11, 2017

14 Days of Love: Day 11

(Story)

Feb 10, 2017

14 Days of Love: Day 10

(Story)

Feb 09, 2017

14 Days of Love: Day 9

(Story)

Feb 08, 2017

14 Days of Love: Day 8

(Story)

Feb 07, 2017

14 Days of Love: Day 7

(Story)

Feb 06, 2017

14 Days of Love: Day 6

(Story)

Feb 05, 2017

14 Days of Love: Day 5

(Story)

Feb 04, 2017

14 Days of Love: Day 4

(Story)

Feb 03, 2017

14 Days of Love: Day 3

(Story)

Feb 02, 2017

14 Days of Love: Day 2

(Story)

Feb 01, 2017

14 Days of Love: Day 1

(Story)

Jan 19, 2017

Small Talk with Our Secretaries

(Story)

Dec 23, 2016

Santa and Rudy Visit LHS

(Story)

Dec 23, 2016

Believe in the Miracles of Christmas

(Story)

Dec 08, 2016

Open House: 8th Grade Invasion

(Story)

Nov 23, 2016

Heart of a Teacher

(Story)

Nov 10, 2016

And the Next President of LHS is…

(Story)

Oct 30, 2016

Scary Story Time with Tarleton

(Story)

Oct 13, 2016

Breaking the Ice with Mrs.Y

(Story)

Sep 29, 2016

60 Q's: Not an Ordinary Interview

(Story)

Sep 29, 2016

Interns: They'll Be There for You

(Story)

Sep 29, 2016

The Get Down with Guidance!

(Story)

Sep 18, 2016

Freshmen Aren't the Only Newbies

(Story)