The Secret Behind College Applications
     College admissions is a game. Who gets in? Why? What qualifications do you have that allow for you to be admitted? These are all important questions to ask, especially when discussing how to get into an elite school, such as an Ivy or any top 25 university in America. It has fascinated me since I started looking into how I can make myself the best applicant for college. I am just an average student. My GPA is good but I do not have an SAT score (due to tests dates being canceled because of COVID-19); my transcript is filled with A's and B's; I've only taken two AP classes (which I am taking now in my senior year); I have barely any volunteer hours; and, I am a first-generation college student. How am I going to stand out in a fish bowl full of other kids with the same stats as me? After months of reading and researching how I can make myself the best college applicant, I learned all the ways to make myself stand out. 
     It's now April, and I've submitted my applications and have gotten back my decisions. Out of 11 schools I applied to, I received admission to 8. This is way more than I expected before I started my senior year, when I thought I had no hopes of getting into any school, including my safeties. I've gained all this knowledge and used it to my advantage, but now since I'm about to graduate, I have no idea what to do with it. If there is one thing I wish to do with all this information, it is sharing it with my fellow Lodi High School pupils, who can use my advice when the time comes to apply to college.
     This guide tells you of some untold advice I have learned –some I wish I knew while applying, and some I information I wish I had even after I submitted my applications:
Plan as early as you can. If you are a freshman, you are in an excellent place. Don't fret if you are a sophomore or junior, you still have time. Work hard in your classes so you can maintain a good GPA,; join a club or two; gain volunteer hours; and most importantly, try to find your passion. Have a good idea of what you want to do with your life, and remember, it's completely okay if you have no clue what you want to do. Applying to college as an undeclared major has no effect on your admission chances.

Semester vs Quarter system. 90% of colleges run on a semester system, which means they have fall and winter semesters. This is more traditional than the quarter system, which the other 10% of colleges, including Caltech, UCLA, and Drexel use. During a quarter system, you attend school from late September through late June. Are you able to handle being away from home often? I emphasize knowing which one you prefer because I applied to a school that uses a quarter system without even knowing it. When I received my acceptance letter to this school, I realized I would be spending a lot of time away from home. Make sure you know what you are signing up for before you apply!  

Applying early decision to a school means you have a binding contract that states if you are accepted to that school, you must attend. You can only apply to one school under early decision. On the other hand, you can apply to as many schools under early action as you want; early action is non-binding. Applying EA generally bumps up your chances of being accepted by 1-2%. If I could go back and fix one mistake I made, I would apply EA to all of my schools. EA typically ends on Nov. 15 for most schools. I applied on Nov. 18. Most colleges have a grace period where they will put you in their EA applicants, but this only worked for one school of mine. I was pushed into regular decisions and had to wait for MONTHS. I received my last admissions decision from a school April 2, less than a month before I have to choose where I'm going to attend. I could've known my decisions a lot sooner for all of my schools if I just applied three days earlier. Don't repeat my mistake.

Congratulations Class of '22 and '23! Lots of schools, especially elite ones, will be test-optional for you!.. And some say they will be SAT optional PERMANENTLY. Don't worry about SAT scores too much though, they are not everything, and definitely do not define your intellect. 

For my prospective doctors and lawyers who hope to follow a pre-med or pre-law track: you do not have to major in biology to become a doctor, or political science to become a lawyer. In fact, you can major in anything and still go to medical or law school. Professional schools, such as these, actually favor diverse majors. I'm not saying you should major in something like art history if your dream is to become a cardiologist, but if you are passionate about a non-STEM major and wish to get an MD, you can do it! 

Get creative with your personal essay! I strongly recommend not writing about a sports injury,  winning a sports game, how a mission trip inspired you, and definitely, 100% do not write about Covid-19.  These topics are WAY too overdone and admissions counselors get tired of reading them over and over again. Most people believe that a personal essay isn't important, but I believe it can make or break your opportunity. It's your one shot to show admissions counselors your personality. For my English class, I had to pick two essay prompts from Common App to write about. The first essay I wrote, I spent hours drafting and I was very proud of the outcome. It was humorous, emotional, and it expressed the way I wanted to present myself. The second one took less time to write, and I wasn't really sure what to put for it until I started brainstorming. I ended up submitting the second essay;  I believe that was what got me into so many schools. John Hopkins "Essays That Worked" helped inspire my writing and it was interesting to get to read through other applicants' personal statements. You can truly write about anything in your essays. I wrote mine about memorizing almost one thousand numbers of Pi. 

It is somewhat of a myth that colleges want a well-rounded student. While in some cases, this is true, an elite school such as Harvard or MIT prefer students who have a "spike." When you think of a well-rounded student, you might think of someone who has a good GPA, an SAT score over 1200, member of three school clubs, plays on at least two sports teams, has 200+ hours of volunteer work, and has a part-time job. These are great stats for anyone to have; however, what makes you stand out? What is your "spike"? A spike is defined as an increased interest in a topic you have a strong passion for. For example, a friend of mine whose spike is in computer science and art, was just admitted to their dream school, Columbia University, because they used their skills in programming and drawing to create their own games. Even if you don't have a spike, you should show in your essays what you are passionate about studying in college.

 

Have a good idea of where you want to go, and by where, I mean which state or country. Can you handle harsh winters at a school in the middle of Minnesota or the hustle and bustle of studying in a large city without being too distracted? Do you want a large school or a small school where your professors will know you personally? These are important questions to ask yourself because you will be spending the next four years at your selected school. 

Proofread EVERYTHING before you submit your application, and when you're done proofreading, do it again. I applied to two schools for Instant Decision Day in October and when I reviewed my application after I submitted them, I found a small typo in my personal essay! Even though it was a small mistake, it was submitted to both and I was very worried. This also goes for the Self Reported Academic Record (SRAR). Schools such as Rutgers need you to fill out your unofficial transcript and submit it. If you put in an incorrect grade, you could face punishment, or have your application denied. 

When answering the "Why us?" question, don't be generic. Make sure your writing is unique to what you want to get out of your college experience at this particular school. Are there professors you want to work with? Is there a specific major or course this school offers that interests you? Is there a club you are interested in? Imagine you already go to the school, and tell admissions counselors what your average day would look like from the perspective of an already admitted student. 

Take some AP and honors courses, but, only if you can handle them!

When studying for your AP tests, I found that study books such as Barron's or The Princeton Review were good, but 5 Steps to a 5 was superior. You also don't need to spend a ton of money buying books. Most of these books are a little pricey for something you're just going to disregard after you take the test. Thriftbooks sells these books for four to five dollars each.

Common App opens on Aug. 1. I created an account sometime in June so I can fill out my information and read college essay prompts from schools I was going to apply to. It carries on to the new year for your class so you don't have to worry about re-writing your information.

Once you have applied, frequently check your student portal. This will allow you to stay updated on whether or not the college needs any more information from you, and so you can view your admissions decision.
     All in all, it doesn't matter where you go to school. You may think you have to go to the best university in order to have a successful career, but that's not true. Prestige isn't all that important. I'm completing this article from my hotel room in Boston (which, in my opinion, is the most superior college city), where I am currently visiting a school I was accepted to; and, I have come to the conclusion I  am completely lost. I'm staring out the hotel window thinking to myself, "How can I choose anything other than this?" 
     One day you'll visit colleges and if you are not able to see yourself there, it may not be for you. That's up to you to decide. I've narrowed it down to two, and let me tell you, this may be one of the most difficult decisions I've ever had to make in my life. However,  I am happy with my decision. When you're in my position as a senior, I'm sure you will understand. But for now, work hard as soon as you can so you can enjoy the luxuries of picking from top schools you deserve to attend. 
About the Contributor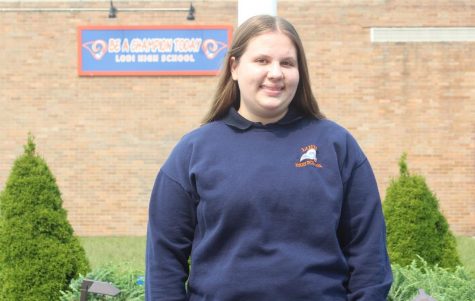 Taylor Hoshafi
Q: Who's your favorite superhero?

A: Spiderman. Even though I hate spiders, he's cool.

Q: What's your favorite movie?

A: Clue because it has...