Coming of Age for the Coming of Ages
January is a period for inspiration and change filled with resolutions and a new slate. This edition, we compiled a list of inspiring coming-of-age movies that would be helpful for the "new year, new me" mindset. 
The Breakfast Club (1985)
The Breakfast Club, directed by John Hughes, is an iconic coming to age movie with multiple series and movies imitating particular scenes. Although the movie has nothing to do with breakfast, it circulates around five high school students who all receive Saturday detention. As these five completely different personalities clash together in various ways throughout the movie, they come together in order to go against the school principal. In the end, they realize that after that day, nothing in school will ever be the same again.
The Breakfast Club will forever be one of my favorite movies. The characters, the dialogue, the realness makes it one of those movies that you never forget. How every single character is so different in the way that they act, speak, and dress, makes it seem impossible that they would ever get along. Yet throughout the movie, you see their true selves, hidden behind the high school façade they have put up. If you have not watched this movie, I recommend you at least watch it once in your lifetime, although you will probably want to watch it every chance you get. 
Juno (2007)
Juno directed by Jason Reitman, is a story about Juno, a sixteen year old in Minnesota, who becomes pregnant by her best friend, Paulie. She then goes to an abortion clinic, but decides to have the child and give it to a couple looking to adopt. Yet various circumstances caused issues, like the adoptive couple's marriage falling apart and falling in love with her best friend.
This movie made an impact the first time I watched it. The humor and realism of the struggles of a high school student is evident throughout the whole movie. You also grow attached to characters and feel what they feel. It's another movie that will stay in your mind. 
Eighth Grade (2018)
Directed by comedian, Bo Burnham, Eighth Grade takes the viewer back to their middle school days with its cringe-worthy, yet heart-warming story. The movie follows Kayla, an 8th grader who deals with anxiety, and her journey of making friends and surviving what seems like the most important year of her life. It is shown that Kayla has social anxiety, making it difficult for her to expand on friendships that she desires along the way. Eight Grade also deals with topics that one might go through during their early teenage years such as dealing with the pressure of social media and sexuality.
Thinking back to when I first saw this movie, it left me feeling different than prior to seeing it. Being in high school, the movie is only somewhat relatable to our present selves. Sure, it was a little cringey in some parts, but I think that was the point of the movie. It was supposed to invoke those cringey memories that actually shaped the person you are now. Though it centralizes on a middle schooler, older teens and adults can soak up lessons that the movie shares such as how beneficial change can be.
Love, Simon (2018)
Released in 2018, Love, Simon centralizes on Simon, a closeted high schooler going through a life-changing time. Throughout the movie, Simon juggles his personal life, love life, and a threat that can out him to everyone at school. Unknowingly, Simon gets outed unbeknownst to him on Christmas Eve on his school's gossip website. By the end, Simon's life is back to normal and is filled with love and support from everyone surrounding him. 
Love, Simon is not the most accurate representation of being a closeted teen, but it does get the point across. It can be relatable somehow for everyone struggling with their sexual identity or those who are not ready to show their true selves yet. I think it's a pretty sweet movie, though it is a little cliché. The biggest lesson that one can get out of the movie is that staying true to yourself is the most important thing to do. 
These coming of age films shine light and inspiration to anyone who is looking for change or dealing with struggles in the new year. Maybe you will enjoy them too!
About the Contributors
Allaina Padolina, Writer
Q: Do you play an instrument?

A: Yes. I play guitar mainly and some bass. I'm self-taught.

Q: What's your least favorite animal?

A: If I had...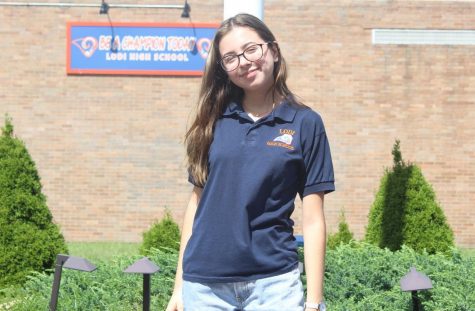 Natalia Quinones, Writer
Q: What is your goal this year?

A: My goal is to focus on my grades and mental health, and to take advantage of my senior year.

Q: How would you...