A Virtual Trial!
Unlike many clubs, Lodi High School's Mock Trial team has prevailed and continues despite the circumstances. Since late October, club members have been meeting up weekly, training eye witnesses and lawyers alike, preparing them for their case in January. Due to COVID-19, both the meetings and real cases have occurred through a virtual format –meetings have been conducted through Google Meets, and cases being conducted through Zoom with a moderator. Cases occurred on Jan. 11 and Jan. 14.
---
Background Story of the Case:
Upon returning home early from a Numerian Society demonstration, Eli Adams experienced some alleged trouble on the road. After a sudden slam on the breaks from the car in front of Eli's, he found himself in the middle of a car crash; however, not with said car, but with close friend Kai Cruz's, who had been following him closely behind. Trouble further accentuates as Eli and the driver in front end up in a hostile interaction. With the driver being an officer, other enforcement is called over and Eli and his mother end up escorted to a police station. The heart of the situation arises when charges are suddenly dropped out of no where and nothing comes of the arrest. Eli seeks to charge the Officer Mounty of false arrest that night, as he is convinced he was arrested due to prejudice against the Numerians.
---
As previously mentioned, the club had to undergo changes to fit a virtual model. To dive a bit more in depth about these changes, we interviewed advisor, Michael Tuttle, on his experience this school year with the format:
Nick: How has pandemic affected the club the most?
Mr. Tuttle: Usually we get a lot of in person time to get to know each other, but this year we needed to work hard every single practice and keep each other grounded. This may have actually helped us since we were solely practicing every meet with no side-tracking.
Nick: How do you think the students performed overall this year?
Mr. Tuttle: Great. I think everyone did a great job, from lawyers to witnesses.
Nick: What are some things that you want others to know about mock trial, and why should people give it a shot?
Mr. Tuttle: It not only is fun but it also helps focus on writing skills because it helps you to get to the point of a matter through evidence and skill. It helps create a team dynamic as well and challenges expectations on a case.
It's a really collaborative atmosphere where we benefit from each other's opinions. We develop a true sense of comradery through each meet.
---
Luis Duarte was one of three lawyers that led the defense and plaintiff sides. The Lodi Rampage wanted to sit down with him, as well, and ask him about his experiences this year:
Nick: What was your experience like last year compared to this year?
Luis: Both experiences were relatively the same but both took me out of my comfort zone. It is super beneficial to be taken out of your comfort zone and to make the most out of it. 
Nick: In which way have you grown the most?
Luis: I have grown more confident and comfortable in my speaking skills. I am better at speaking off the cuff and communicating my ideas.
Nick: What is your personal favorite part about mock trial?
Luis: Best part about mock trial is that it's tailored towards an experience. The most interesting part is analyzing the documents and seeing how my peers interpreted them differently. I would assume my witnesses would respond a certain way and would be challenged with different dynamics.
On Jan. 11, the club competed against Lyndhurst, playing the side of defense. The lawyers for the night, Montana Stover and Luis Duarte, portrayed a phenomenal display of skills and line of questioning for every witnesses. Speaking of the witnesses, Christian Dere, Omar Lopez, and Perla Villacampa embodied their characters and put on a tough fight. Sadly, Lodi did not win round one, but lost triumphantly.
On Jan. 14, Lodi went up against rivals Bergen Catholic, playing the side of prosecution. This time, Vivian DeLa Paz and Luis Duarte played the lawyers, giving some of the best performances of the night, often stumping the opposing witnesses. Meanwhile, Nick Marin, Paola Kotori, and Biansly Bueno playing the plaintiff witnesses, gave great line delivery and arguments and gave a flawless execution of character. Collectively, Lodi was competing at 110%, leading to a greatly-deserved victory.
Although Lodi High School's Mock Trial team ventured through untimely terrain to achieve a fruitful season, everyone gave their best efforts and debated at their best. The performances delivered on both court dates were astounding, and the virtual setting seemed to only further enhance the determination between teammates.
Full List of Club Participants:
Defense Attorneys: Luis Duarte and Montana Stover
Prosecution Attorneys: Vivian DeLa Paz and Luis Duarte
Defense Witnesses: Christian Dere (Officer Nico Reed), Omar Lopez (Officer Cato), Perla Villacampa (Officer Lieutenant Tatum Barman)
Prosecution Witnesses: Nick Marin (Eli Adams), Paola Kotori (Kai Cruz), Biansly Bueno (Shiloh Pittsburg)
Advisers: Mr. Tuttle and Mr. O'Brien
About the Contributor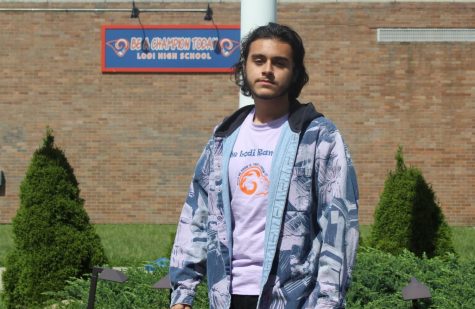 Nick Marin, Editor
Q: If you could have dinner with one person, dead or alive, who would it be and what would you talk about?

A: I would love to speak to Marilyn Monroe....