November Sounds: Teacher Edition
Have you ever wondered what your teachers' favorite albums are? Do you want to know what kind of music is your English or physics teacher is into? In this edition, we decided to take a break from new releases and asked four teachers to recommend an album they really liked.
Mr. Herschman's Recommendation:

The '59 Sound – The Gaslight Anthem
Released in the summer of 2008, The '59 Sound is The Gaslight Anthem's sophomore release. To this day, the album holds the Jersey natives' most known songs such as "The '59 Sound" and "Great Expectations" and remains a favorite amongst fans. Mr. Herschman noted that this album reminds him of "driving around in the summer with the windows down around the beach," which is definitely evident in the vibe of each song. The band explores topics such as jealousy, loss, and love in a very melodic and artistic way all rock fans would enjoy. 
Allaina's take: 9/10
I honestly enjoyed the album more than I thought I would. Prior to listening to the whole album, I was only familiar with "The '59 Sound" and "High Lonesome," both of which I actually liked. While listening, I observed hints of punk elements, something I am very familiar with, and even some blues. There were no tracks that I thought were awful, though I enjoyed some more than others. One of my favorite tracks was "The Patient Ferris Wheel," which I thoroughly enjoyed. I also recognized The Mighty Mighty Bosstone's Dicky Barrett on backup vocals on that track as they are one of my favorite bands. I agree with Mr. Herschman with his take on the album as he said it gave a summer vibe. Overall, The '59 Sound is a very solid album that I will definitely go back to in the future.
Mr. McCan's Recommendation:
The Wall – Pink Floyd
Pink Floyd is an iconic English rock band formed in 1965. They are best known for their experimental music and philosophical lyrics. The Wall, an album Mr. McCann listened to a lot when he was younger, was released in November of 1979. It was a hard album to compose as the band was going through a financial crisis during the time. The album even caused internal issues, ultimately resulting in the dismissal of band member Richard Wright. Although there were many problems, The Wall had a great deal of success, topping the US Billboard charts for 15 weeks, even earning the number three spot in the UK. 
Natalia's take: 8/10
No matter who you are, you are bound to enjoy Pink Floyd's The Wall. The band's psychedelic sound was evident throughout the album. It includes sound effects like babies crying and scream-like guitar sounds. You almost feel the pure emotion of what the singer is going through in each different track; it is all raw emotions and feelings. This album is something you will never hear again –a piece of music that will stand out. Even though, personally, it isn't quite my style, The Wall will intrigue you and captivate you. 
Mr. Bareiss's Recommendation:
Ghibli Jazz – All That Jazz
Originating from Japan, All That Jazz is a contemporary/jazz group that formed in the late 2000s. The group's 2009 album, Ghibli Jazz, takes tracks from lovable Studio Ghibli movies and puts a jazz spin on them. The album was commissioned by Studio Ghibli themselves, looking for jazz covers of their original films. According to Mr. Bareiss, the jazzy spins "help bring the scenes they depict to life in a totally different genre." If you are a fan of both Studio Ghibli films and jazz, like Mr. Bareiss, then this is the album for you! 
Allaina's take 7.5/10
To be 100% honest, this is the first jazz album I listened to carefully from start to finish. Actually, this is the first jazz album I've listened to at all.  Jazz was also never my genre of choice. With that being said, I do not really know what differentiates "amazing" jazz from "okay" jazz. Mr. Bareiss did tell me that this was a "fantastically constructed" album, so I will take his word for it. I found the album nice to listen to as I did some artwork since it was very calming. Being a Studio Ghibli fan myself, it was cool to hear a twist on some of the tracks that I already found familiar. Maybe I just don't have an ear for jazz or I was just not listening hard enough, but I can't say any tracks stood out to me to be a "favorite." I did not find anything bad about the album as a whole and I would probably come back to it if I needed some kind of chill background noise. 
Ms. Getrajdman's Recommendation:
Wincing the Night Away – The Shins
The Shins, Ms. Getradjman's favorite band, are an American indie rock band formed in 1996. The band is based in Oregon, although they were formed in New Mexico. The band became "indie rock icons" when one of their songs, "New Slang" was featured in the film Garden State, starring Natalie Portman. From that moment, the band became a mainstream success. This particular album, Wincing the Night Away, was released in January of 2007. It was inspired mainly by a particularly painful breakup but also the joy of the group's success. This album reached number two in the charts and sold over 100,000 copies during their opening week. It was even nominated for a Grammy award for best alternative album. Although the band has dealt with members leaving and new ones joining, they continue to release music to this day and stick with their original sound.
Natalia's take: 10/10
I genuinely fell in love with this album since the first song began playing. As a fan of indie music, I love discovering new bands and albums that truly bring the real sound of indie to the table. The Shins did just that in this album. It almost brought a sense of nostalgia; the album brings comfort. I felt like I listened to this album in a past life, provoking a feeling of closeness with each track. Each song tells its own story and you feel like you're right in the middle of it. The hint of melancholy tones and pure elegance throughout the album makes you feel fully immersed. Not only that, but the lyrics make you think. Songs like "Red Rabbit" will have you interpreting the lyrics all night. Meanwhile songs like "Sleeping Lessons" make you want to discover who you are and it was also an incredible opener for the album. The entire album is an experience –one you do not want to miss.
Whether you're a fan of jazz or classical rock, these teachers definitely have a good ear when it comes to music! Tune in next edition, where we will be taking album recommendations from students.
About the Contributors
Allaina Padolina, Writer
Q: Do you play an instrument?

A: Yes. I play guitar mainly and some bass. I'm self-taught.

Q: What's your least favorite animal?

A: If I had...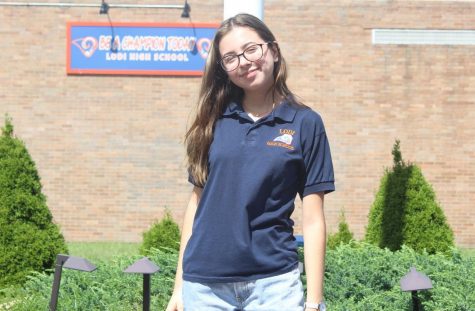 Natalia Quinones, Writer
Q: What is your goal this year?

A: My goal is to focus on my grades and mental health, and to take advantage of my senior year.

Q: How would you...