Our Strange Addiction: Billie Eilish
At only 18 years old, Billie Eilish has established herself as a prominent figure in today's media. Raised in LA, she and her older brother, Finneas, grew up home-schooled alongside each other. Throughout their childhoods, they developed an affinity for music which would inspire them to create songs together. Then, around the age of eight, Billie became part of her city's choir which furthered her vocal skills. All remained relatively normal for Billie until she released Ocean Eyes on Soundcloud– a single that was only supposed to be heard by her dance instructor. Soundcloud users took notice of the single and it began to gain copious amounts of online traction. The positive feedback she received, influenced Billie to pursue a career creating music with the aid of her brother. This led to the fruition of her first EP, Don't Smile At Me, released on Aug. 11, 2017.
Don't Smile At Me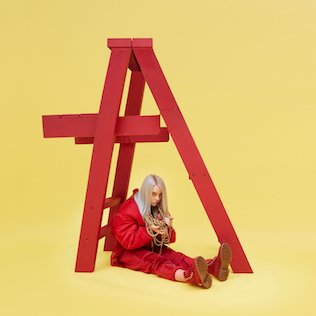 Despite consisting of eight brief tracks, this EP is a collection of some of Billie's best musical assets. From beginning to end, every track showcases varying stylistic elements to who she is as an artist- sonically, vocally, and lyrically. On the opening track, "COPYCAT," Billie displays some clever lyricism as well as some bass heavy instrumentation that compliments the subject matter. Throughout this single, Billie is talking down to someone and expressing her ill feelings towards them. As a result, she allows the rough and heavy hitting instrumental to compliment the blunt remarks she expresses. Following "COPYCAT," is "Idontwannabeyouanymore," which displays a completely separate side of her. Speaking on subjects of low self esteem and self hatred, the track is decorated with a lush instrumental, particularly featuring the piano and drums. Soft and breathy vocals set a gloomy atmosphere throughout the single that envelop the listener in a blanket of sorrow. This song showcases some of Billie's best vocal performances throughout Don't Smile At Me, further proving her unique sound. Advancing down the tracklist, subject matter continues to range from discussion of murder in "Bellyache," to describing her desperation for affection in, "Hostage." Despite the baggage of her tracks, Billie displays a knack for creating perfect complimentary pairs between vocal delivery and instrumentation. Billie's vocals and slower paced sonic arrangement create an underlying distinction between her and other artists in the media.
Post release, Don't Smile At Me garnered a great deal of positive feedback from critics and fans alike. Listeners were pleased to witness what Billie had up her sleeve, and many were anticipating her next step. To the best interest of many, Billie went on to announce her debut album, When We All Fall Asleep Where Do We Go?  would be released on March 29, 2019. With such a rapid climb to popularity and critical acclaim, many wondered if the record would underachieve or surpass her past excellence…
When We All Fall Asleep Where Do We Go?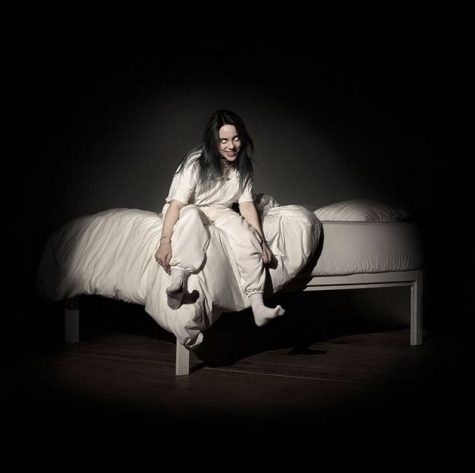 Billie Eilish's debut album works as a definitive statement of who she is as an artist. The record proves that its predecessor was simply an outline to what would later become of her discography. With 14 tracks, the album is diverse with an equal amount of bangers, slow jams, witty lyricism, and emotional baggage. From start to finish, the arrangement of these varied tracks keeps the listener interested, with more of the upbeat songs in the first leg and downhearted songs in the latter. The record begins with the billboard hit, "Bad Guy," which presents the more lighthearted side of her artistry. With the ear worm instrumental and memorable vocal delivery, the track creates an exuberant undertone for the album. Later on in the tracklisting, one encounters another one of her most acclaimed centerpieces. "When The Party's Over," is the record's most prominent display of Billie's vocals, with each sung lyric increasing in pitch until the chorus hits. From then on, the track becomes an emotional avalanche with Billie's voice reflecting utter desperation and heartbreak. Stepping away from delivery, Billie's instrumentals also evolve in complexity on the LP. She demonstrates skillful sampling in her song, "My Strange Addiction," where lines from the hit series The Office are referenced between moments of Billie's singing. In another vein, the track "I Love You," has instrumentation that picks up in volume and momentum alongside fleeting lyricism. The sonic airiness and moments of buildup/breakdown allow the song to feel like an increasing breeze under the moonlight– on brand with the lyrical content of the song. Lastly, in regards to lyrical matter, Billie becomes more vulnerable to her audience, speaking on topics such as suicide in "Listen Before I Go" and drugs used amongst her peers in "Xanny." When We All Fall Asleep Where Do We Go? expresses maturity in multiple aspects of Billie's music– from clever instrumentals to more personal subject matter to phenomenal vocal ability. The full length debut exhibits her as a massive sonic influence despite her age.
Over all, expectations and worries alike were quenched upon the record's release . More than ever, Billie continued to gain increased praise. When We All Fall Asleep Where Do We Go? led to great deals of positive press and financial success for the young artist. Billie also accompanied the album's release with The Billie Eilish Experience, a pop up exhibit in LA decked with rooms representing each song off the album. Her rise in recognition would lead her to receive multiple Grammy and VMA nominations, and take home a myriad of trophies for her debut record. Her brother, Finneas, would also receive awards for his efforts in co-producing his sister's projects. Billie Eilish has proved herself to be more than just another rising artist. She is an aesthetic, a unique sound, a phenomenal voice, and a solid talent respectively. Beginning with a simple song on Soundcloud, she rose to worldwide fame in the span of about five years. Billie is a prime example of young talent and artistic growth, with a bright career ahead of her. It will be interesting to see where the next couple of years will take her and her career.
About the Contributor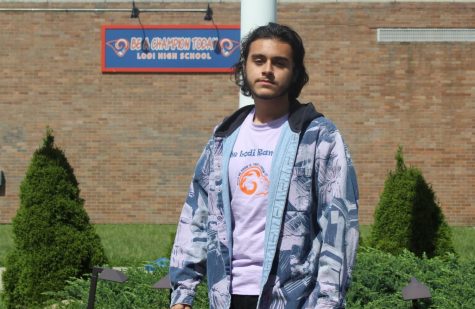 Nick Marin, Editor
Q: If you could have dinner with one person, dead or alive, who would it be and what would you talk about?

A: I would love to speak to Marilyn Monroe....