Clubs Galore!
During Sept. 16-20, after much popular demand, Lodi High School hosted its annual Club Fair. Clubs from all facets of the school gathered in the cafeteria to promote and advertise themselves to the student body. In anticipation for the event, different groups planned and prepared to display their club on their assigned day. Needless to say, the clubs at LHS did not disappoint as every stand represented each community well and enticed students to participate and join.
For more insight on each club, take a look at the info below:
(In order of appearance at Club Fair.)
MONDAY
Student Council:
Student Council is a great opportunity for students to fund raise money for their graduating class! There are councils for every high school level. The club advisers are listed below.
Freshman: [email protected]
Sophomore: [email protected]  and [email protected]
Junior: [email protected]
Senior: [email protected]
Student Government:
Student Government organizes a myriad of events for the student body, ranging from homecoming, to ram wars, to freshman orientation.
Adviser: [email protected]
Rocket Club:
Rocket Club allows for students to toy around with engineering. Students create rockets from scratch and rival against other schools. Rocket Club also gives the opportunity to earn scholarships.
Adviser: [email protected]
Key Club:
Key Club gives rise to students who want to participate in their community and receive service hours in the process.
Adviser: [email protected]
---
TUESDAY
GSA:
GSA is an all inclusive club. Their goal is to spread awareness and positivity around LHS, particularly regarding the LGBT and other minorities.
Adviser: [email protected]
Poetry Club:
Poetry Club allows students to express themselves via writing. In meetings, members write poems and read them afterwards, sharing their ideas to an inviting community.
Adviser: [email protected]
Math League:
Math League offers an opportunity for students who enjoy the subject to compete. Math League rivals against other schools in competitions multiple times a year.
Adviser: [email protected]
Ecology:
Ecology focuses on learning about the environment around us. Members discuss, learn, and participate in interacting with the environment.
Adviser: [email protected]
---
WEDNESDAY
Interact Club:
Interact Club's goal is to encourage students to interact with their community. Members set up events such as the haunted house to encourage community service at LHS; furthermore, they organize functions for charity.
Adviser: [email protected]
Diverse Cultures Club:
Diverse Cultures Club celebrates the nationalities and ethnicities that coexist together within LHS. Every year, they host an annual food fest.
Adviser: [email protected]
Green Tech Team:
The Green Tech Team is an engineering based club. Members create robots and compete in competitions with other schools.
Adviser: richa[email protected]
Drama Club:
The Drama Club is a performance art club. They put together a yearly musical every Spring season. The Drama Club also tours around Lodi and participates in the Teen Arts Festival.
Adviser: [email protected]
---
THURSDAY
Listening Room:
The Listening Room is a music appreciation club where members recommend and share music. They go through voting ceremonies where an album is collectively chosen, and members discuss their opinions on music post first listen.
Adviser: [email protected]
French Club:
French Club allows members to dive deeper into the Language. Members indulge in French Culture and compete in competitions.
Adviser: [email protected]
Mock Trials:
Mock Trials is a mock debate group. Members imitate courtroom meetings and go to the courthouse to act out their scenes.
Adviser: [email protected]
Seatbelt Committee:
The Seatbelt Committee discusses and promotes road safety. Members organize events to raise awareness on careless driving.
Adviser: [email protected]
---
FRIDAY
Pre-Med:
The Pre-Med club's goal is to give further insight to those interested in Biology. The club meets every week to discuss various biological topics on the medical field. The club also goes on an annual trip to the Liberty Science Center.
Adviser: [email protected]
Chess Club:
The Chess Club meets up weekly in order for students to get to play Chess. The environment is full of friendly competition and new members are always welcome.
Adviser: [email protected]
FBLA:
FBLA (Future Business Leaders of America) is a club that focuses on leadership development. Members participate in programs, events, and competitions relating to career development.
Adviser: [email protected]
Gaming Club:
Gaming Club is an interactive club which allows students to experience new forms of gaming. Members enjoy different video games while in a stress free environment.
Adviser: [email protected]
About the Contributor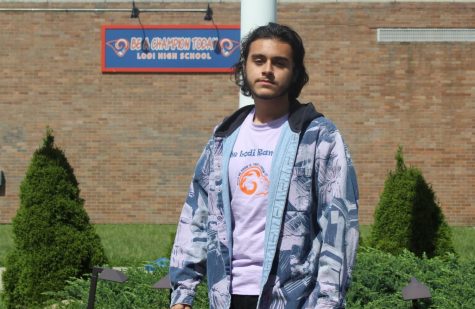 Nick Marin, Editor
Q: If you could have dinner with one person, dead or alive, who would it be and what would you talk about?

A: I would love to speak to Marilyn Monroe....