Don't Break the Bank, Save that Green
Everything has a price and it's easy to get enveloped in all of the temptations when that paycheck hits your bank account. Saving money is a genuine skill. With big events comes big expenses and senior year is filled costly experiences like prom, the senior trip, graduation, and any other events throughout senior year; therefore, it is important to start saving as soon as possible. Here are some simple tips to get you started:
Knowing when to spend money
Do you really NEED that new pair of shoes? Will you really starve if you wait until you're home to eat? Learning when you can avoid any unnecessary expenditures is a key tool in saving money. It's easy to buy something just because you have the money, but take a second and think if it's something you truly need or just something you want. It can always help to take a moment and think, is this really worth being set back?
Designate where the money goes
If you find yourself succumbing to temptations and spending just because you have the money on you, try putting money aside. Figure out how much of your paycheck is spent on actual necessities and take out any excess in cash and put it away. Finding a safe and secure place to put some cash can lead to you quickly forgetting about it, and before you know it, you're left with a nice chunk of change. Speaking of change, keep those coins! It's rare that someone pays with exact change, so take those extra coins, put them in a jar, and watch as it fills up. Once your container is at capacity, check your bank to see if they could roll your coins and deposit them into your account or find your local Coinstar machine; however, be aware –these machines do take a fee of around 10% of the change deposited. 
Saving money on food with deals
If you're anything like me food can put a real big dent in your bank. It's incredibly easy to spend $10-$20 every time you go out to eat and that can really add up. Look for local gems with lower prices that offer great quality food. Many places even offer deals on certain menu items depending on the day of the week:
Applebee's: ½ Price Appetizers after 9 pm (186 Passaic St, Garfield)
Buffalo's: Wednesday 70¢ Wings (261 Hackensack St, Wood-Ridge)
BJ's Brewhouse: ½ Price Pizza Mondays and $3.00 Pizookie Tuesdays (21 Teterboro Landing Drive, Teterboro)
Wingstop: 60¢ Boneless Wings (11 Outwater Ln #5, Garfield)
Most importantly, KNOW YOUR LIMITS. Sure, you could spend that five bucks and force down that milkshake, but realize you're setting yourself back. Fighting temptations is a major aspect of saving money, and you need to realize when to say no.
Keep in mind what you're saving for
It's easy for anyone to lose sight of what's to come and get caught up in the present, but you can't forget about the long term investment you're making. Something as simple as a sticky note on your desk can act as a constant reminder of what's ahead. Not home too often? No problem! If you know you're prone to forgetting what you're saving up for, set it as your wallpaper. Just having sight of your goals can be enough to bring you to reality and make you realize that it will be well worth the wait. 
Most importantly DO NOT get discouraged. Even if you find yourself spending more than you said you would, it's no reason to beat yourself up. Slow and steady wins the race and even if you find yourself only ten dollars closer to your goal than last week, you've still made progress.
About the Contributor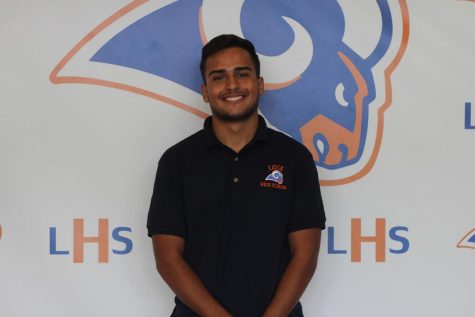 Fransisco Mendez, Writer
Q: What are you most excited about for your last football season?

A: I know it'll sound cliché but, personally, I'm looking forward to the homecoming...