Falling into a New Season
On Friday, Sept. 7, Lodi High School kicked off the 2018-2019 school year with an unforgettable fall pep rally, in which all fall sports were showcased. The following fall sports that participated in the pep rally and showcased their seniors were Boys Soccer, Cheerleading, Football, Girls Soccer, Girls Tennis, and Girls Volleyball. The following seniors were highlighted for their achievements:
Boys Soccer- Edwin Arias, Erick Campoverde, Andy Duran, Irving Duran, Alexis Fernandez, Derek Jerez, Timothy Mayer, Estevin Orsorio, Gary Peralta, Santiago Ramirez, Angel Saboya, and Lenin Villacres.
Cheerleading- Jennifer Avila, Chelsie Bartoloni, Alexa Erickson, Ny'Asia Frost, Nikole Lange, Natasha Lopez, Hayley Mantilla, and Caterina Messina
Football- Amir Batts, Matthew Bruno, Jeremy Cruz, Devon Delgado, Francisco Duron, Jonathan Duron, Kyle Leach, Fransisco Mendez, Isaac Palikodath, Jonavin Soto, Sean Tocci, Jorgo Trushi, Steven Vasquez, and Anthony Zakrzewski,
Girls Soccer- Mary Margaret Breny, Daysia Bubenik, Hardeep Kaur, Kamila Tomczyck, and Andrea Vasquez
Tennis- Julia Guinto, Rochele Hernandez, Aashka Mistry, and Sabiha Shahab
Volleyball- Andrea Alvarado, Milandeep Batth, Victoria Cassera, Kaya Luckzo, and Zainab Mubasher
To end off this year's fall pep rally we acknowledged and cheered on all of our talented Rams. We want to wish all of the fall sports good luck during this 2018 fall season; we know you'll  make us proud, win or lose!
Special thanks to Amanda Johnston and Anthony Scrafano for filming the pep rally! <3
About the Contributor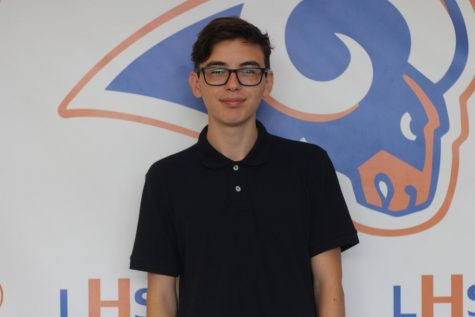 Driton Cadraku, Writer
Q: Why did you want to join the Rampage?

A: I love to edit and there were no other classes that provided the opportunity to edit in class like the one...