Showers of Respect for Our Veterans
Hang on for a minute...we're trying to find some more stories you might like.
It's no secret that deciding on plans after high school can be quite stressful. "Should I go to a four year college? Two years? Trade school? Which choice is best for me? Which is the least expensive option?" For many students, a smart and inexpensive option is joining the US Military. There are many reasons a student might choose to enlist. National pride is a key reason that many choose the military route. Many students who join the military are looking to protect and serve their country; this can especially be seen in their career choices after they serve, such as police officers, law enforcers, government officials, etc. Another reason students choose this option is due to financial standings. Enlisting is a very inexpensive way to obtain a degree during/after active duty. Many branches of the military offer some form of financial assistance, some offering 100 percent assistance, toward undergraduate and graduate degrees.
There are many other benefits to enlisting after high school. Active duty members receive a salary which, at such a young age, is a good amount to be making right out of high school. Traveling is also made simple and inexpensive for those in the military. Other benefits such as health and dental care can be inexpensive or even free. Overall, you would be learning many training and leadership skills that you can take with you in the years after you have served. Here is some information about each branch so that you choose what is right for YOU!
Army- protects the security of the United States and its resources
Marine Corps- often first on the ground in combat situations; works closely with Navy
Navy- defends the right to travel and trade freely on the world's oceans and protects national interests overseas.
Air Force- protects American interests at home and abroad with a focus on air power
Coast Guard- protects the public, the environment and U.S. economic and security interests in any maritime region

About the Writer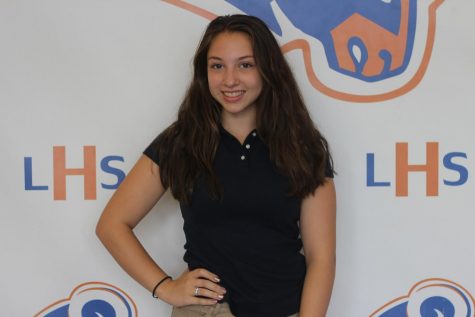 Caterina Messina, Administrator
Q: How would you describe your high school experience in three words?
A: Positive personal growth
Q: If you could have any superpower what would it be and why?
A: I would want to have super strength in order to compensate for my height. People might not take me seriously because I'm so small but I bet they would take me seriously if I had super strength.
Q: What are you most looking forward to during your second year of Rampage?
A: I'm excited to plan out videos, write editorials, and come up with great ideas that will make this year personal to our grade.
Q: If money wasn't a worry, what would you do after graduating?
A: I would definitely travel. To me, traveling and creating lasting memories and experiences is more important than any material item. It's so important to travel and witness the culture/history of other countries. If I could afford it, I would never be home.
Q: What's your favorite thing about yourself?
A: My favorite thing about myself is my ability to adapt. I feel like I can take change and embrace it. I like the fact that I am able to be alone but also don't mind a crowd. Or the fact that I could find happiness in a big city or a small town. I feel that being able to adapt is a great quality to possess.