'Tis the Season to be Giving
This is definitely true here at LHS. From volunteering to donating, our LHS students and faculty have and will always be around to help. This year, Interact Club, NHS, and Key Club have helped give back this holiday season with the following services:
Blood Drive
A new school year and LHS Key Club and new adviser, Mr. Lewis, is happy to celebrate its annual blood drive. All of the blood drawn will be donated to Hackensack University Medical Center. On Friday Dec. 8, LHS welcomed representatives from the Community Blood Services, with whom it has, for some time now, closely worked to make this event possible. It was a successful year once again and the Key Club would like to thank all who donated their time and blood.
Gift Wrapping 
It's that time of year again –Christmas trees and decorations everywhere you turn. However, with all of this holiday fun comes the tedious job of wrapping gifts. Well, guess who's here to bail you out once again? That's right, NHS and the Interact Club with their advisers, Mrs. Neshan, Mr. Tarleton, and Ms. Getrajdman. You can learn this daunting task with our brand new, How To video or just come on down to the Interact Club and NHS' annual gift wrapping at Paramus Park (near Macy's/Hollister/Chicos) from Monday, Dec. 18, to Wednesday, Dec. 20, from five to nine in the afternoon. 
Toy Drive
The Interact and Key Club collected children's toy donations from students and staff of LHS. The donations went to the Lodi PBA, a volunteering group that distributes the toys to local families, and Oasis, a women and children shelter in Paterson. They also collected money donations during lunch periods. The money collected was used to purchase even more toys. Interact Club adviser, Miss G, explained the importance of this fundraiser by saying, "There are few things more important than demonstrating kindness and compassion for other people." If you didn't get a chance to donate this year, there's always next year!
Appreciation Letters
In order to get into the spirit of giving, the LHS Key Club is running a campaign to promote kindness around the school. The appreciation letters are a way for the LHS community to write to a teacher or student in the school and tell them how much they appreciate them.Teachers and students are always going above and beyond without much recognition. This campaign allows the LHS community to tell those people that their hard work didn't go unnoticed. Students can write letters of appreciation during their class periods and send them to the teacher or student of their choice. Club adviser, Mr. Lewis, explained, "The gesture was made so that nobody had to spend any money to tell someone how much they meant." This is  important especially during this time a year. Be sure to write to someone who you feel deserves some appreciation this holiday season! Even if you are not participating in the campaign,just remember that when it comes to gift giving it's the thought that counts!
Enjoy your holidays and remember to give to your community, no matter how big or small, any act of kindness can make a difference in the lives of others!
About the Contributor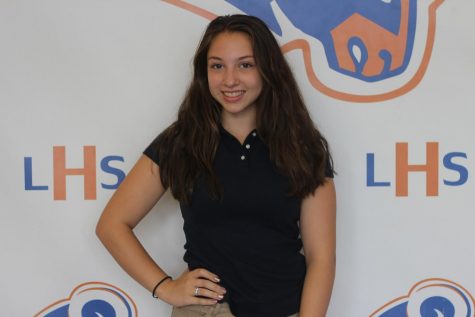 Caterina Messina, Administrator
Q: How would you describe your high school experience in three words?

A: Positive personal growth

Q: If you could have any superpower what would...