Push em', Sack em', Rams, Attack em'
The LHS Cheerleaders are the football team's number one fans. They practice and learn cheers to support the football players at each of their games. They are the center of our school spirit. We decided to conduct an exclusive interview with Coach Scimeca and her cheer captains Robert Clark, Nicolette Loiacono, Francesca Dipasqua, and Alyssa Martin.
Q: How do you feel about this being your last year of cheer?
A: Alyssa: "It makes me upset because I won't be cheering after high school but I'm also excited because we have an amazing team for my senior year. I'm looking forward to my senior year being a great year."
Robert: "It makes me sad because I'm going to miss my team although I am excited to see what this year holds in store for me."
Nicolette: "I've been cheering for ten years. It's bittersweet and very sad. I wouldn't want to spend my last year with any other team."
Francesca: "I feel good about it. It came crazy fast. I wish I can do another four years. I love meeting new people especially the ones who are joining the cheer team."
Q: What's your favorite thing about cheer?
A: Alyssa: "The spirit. We're very upbeat, positive, and outgoing."
Robert: "We're very cheerful people and the ones who bring the spirit into the school for the student body."
Nicolette: "It involves us with the whole school, helps me make friends, and it challenges me."
Francesca: "I love fumbling because you flip around on the floor and I get a rush of excitement and adrenaline."
Q: How do you feel about the new freshmen?
A: Alyssa: "I love them! They have a great attitude and they all work hard."
Robert: "They all work to the best of their abilities and they are great people to be around."
Nicolette: "They are really good cheerleaders. They complete the team and they fit in really well."
Francesca: "They're more respectful and they are wiling to work and try new things."
Q: How do you feel about being the first and only guy on the Lodi cheerleading team?
A: Robert: It makes me feel like if I put my mind to it, I can achieve anything I want. It feels so good to know I also have my peers behind me supporting and cheering me on.
Q: What are your thoughts on your new group of cheerleaders and how well do you think they have adapted to the team?
A: Coach Scimeca: "This is the first year that we have expanded and also added a JV team to the program. So far, things have been going really well. It's been a great opportunity to open up cheerleading to people who normally might have shied away from it because they felt they didn't have the proper experience or skills. The new group now has the chance to work alongside varsity. Varsity in turn has been very helpful and welcoming to the new group."
Come show your Lodi pride along side the LHS cheerleaders as they support the Rams at the rivalry football game against Garfield!
Where: Garfield High School
When: This Friday, Sep. 22, at 7 p.m.
Go Lodi!
About the Writer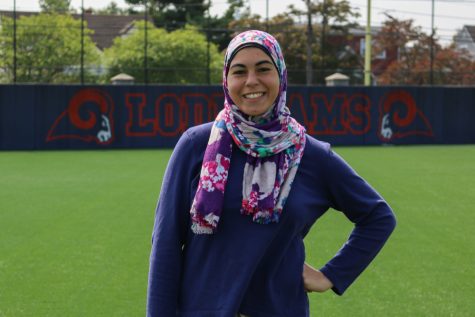 Yasmin Elfeky, Writer
Q: How do you feel with balancing school, AP classes, sports, and work?

A: "It is very overwhelming, but I keep it under control because I'm good...