Touchin' Down on the Endzone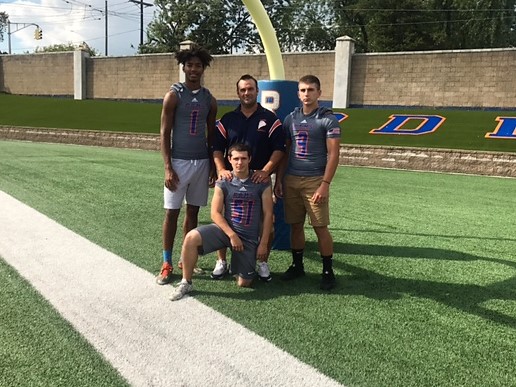 The Lodi football players have been working hard over the summer to get back on track for a stronger season this year. With a new head coach, Coach Maggio, their new preseason was different, but much more effective. They have high hopes for this season and they plan on giving it their all. To learn more about the team and their season, The Lodi Rampage got an exclusive interview with the coach and his team's captains, Carlos Pepin, Matt Wood, and Mile Djordjiovski.
Q: How do you feel about this being your last season?
A: Carlos: "I'm going to give it my all and make it memorable. I've been playing for three years with Matt and Mile and this is my last year playing football."
Matt: "I'm sad because four years went by quick and I won't be playing after high school."
Mile: "I'm sad because I love playing football and its going to be my last year playing and putting on my pads."
Q: How is the loss of last year's seniors impacting this season?
A: Mile: "We lost our running back; he had good vision and was very elusive and hard to tackle."
Q: How well do you think your pre-season prepared you for this season?
A: Carlos: "Our preseason prepared us very well. We had practice from 8 a.m. until 12 or 12:30 sometimes. It included a lot of team bonding, something that will benefit us through the season. We feel well prepared."
Mile: "We won against Bergenfield and Hasbrouck Heights [scrimmages], two of the best teams we see all year long."
Q: Describe a typical practice.
A: Mile: "It's either an offensive or a defensive practice day. We do seven on seven, go over plays, and end with conditioning."
Q: How will you improve after losing your first game of the season against Manchester?
A: Carlos: "We have to bounce back, put it in the back of our heads, and work harder."
Q: Who's your biggest rival?
A: Carlos: "Garfield"
Q: What are you looking forward to for this season and what's your overall goal?
A: Coach Maggio: "I'm eager and excited to take over as the head coach for the legendary Coach Tirico. Getting the athletes to come together as one is the overall objective."
Come support the Lodi Rams at their rival game on Friday, Sep. 22, against Garfield at 7 p.m at Garfield High School! It's a white out game so make sure you wear white!
About the Contributor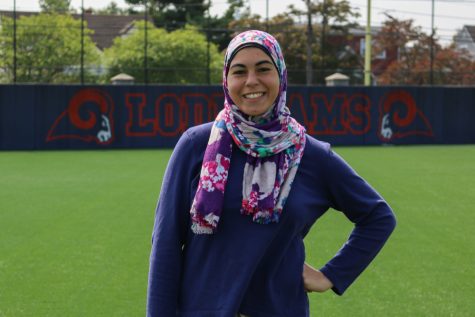 Yasmin Elfeky, Writer
Q: How do you feel with balancing school, AP classes, sports, and work?

A: "It is very overwhelming, but I keep it under control because I'm good...