Pep Pep Hurray!
A new school year has just begun and exciting events are coming our way. To start the 2017-2018 year, LHS held its first pep rally on Friday, Sept. 8. The pep rally showcases all of the fall sports with performances by the LHS cheer team. The coaches introduced their seniors and captions as the crowd cheered in support!
The first team to walk onto the field was the girls tennis team. Coach D'Alessio introduced his only senior and captain, Kelsie Hannavi. Next up was our volleyball coach, Coach Getrajdman, and her six seniors, Adelina Osmani, Katherine Espinal, Guiliana Torres, Natali Vega, Janice Montalvo, and, captian, Emma Bernardo.
The crowd then welcomed the LHS soccer players. First to walk out into the field was the girls varsity soccer team. Coach Noordeloos excitedly introduced his team and his four seniors, Emily Herman, Shajida Tilett, and, two captains, Michelle Wilson (forward) and Yasmin Elfeky (goalie). As the Lady Rams exited, the boys varsity soccer team entered. Coach Sera announced his seniors, Adrian Guerrero, Nelson Selgado, Kevin Lopez, Alejandro Abad, Juan Dominguez, Juan Galindo, Kristis Begaj, Joel Bueno, Joel Cuachoca, and captain Joan Spirollari.
The rally continued with the introduction of the varsity cheering team! The five seniors cheering this season are Robert Clark, Francesca DiPasqua, Kasey Miranda, Alyssa Martin, and Nicolette Loiacono. Last but not least, the football team took to the field. New head coach, Coach Maggio, introduced the season's seniors and the varsity football captains. The seniors playing this year are Daniel Adams, Christopher Laureano, Mikeal Miller, Juan Asencion, David Koodsi, Randy Mendez, and, captains, Matthew Wood, Carlos Pepin, and Mile Djordjiovski.
To wrap up this year's fall pep rally, there was one last cheer performed by our talented Rams. Many of the sports have already played a few games (see sports scroll for scores!), win or lose they always make LHS proud!
About the Contributor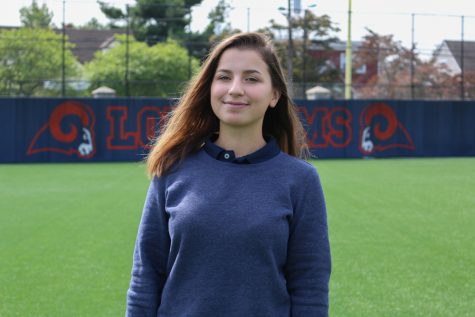 Mikela Lickollari, Administrator
Q: How has high school been so far?

A: The days are pretty long for Mikela and she thinks it's just scary that we have to start growing up.

Q: Do...